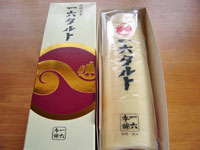 Ichiroku Tart
Home > Ehime

Co., Ltd. Ichiroku-Honpo
2-20, Higashi Ishii 1-chome, Matsuyama City, Ehime, Japan

Category: fresh confectionery
Product Name: Ichiroku Tart
Raw Materials: Flour, sugar, egg, red bean paste, yuzu, expansion agent
Ichiroku Tart

I heard that one of Ehime's famous sweets is "Ichiroku Tart" from Matsuyama. Why is it a tart in Ehime? I thought it didn't matter, but when I did some research, I found out that it was started by a lord of Matsuyama (Sadayuki Matsudaira), who developed the Nanban tart that was handed down from Nagasaki. Also, there are many other tarts made in Ehime besides this Ichiroku Tart, right?

When I think of a tart, I usually think of a pie on a plate, with fruits and nuts on top of the pie. However, when I looked at the tart that arrived, it looked like a cake roll.




When I opened the package, the rolls were cut right from the start, so I just had to share them. The cut is in the shape of a "N" and the "N" part is an azuki bean plant. As I took a bite, the aroma of yuzu spread in my mouth. Oh, I see, there's yuzu in the azuki bean paste.

Yuzu has a strong and unique aroma. It's great because you can immediately tell it's yuzu. It's just the right amount of sweetness, except for the smell of yuzu. Also, although it looks like a Western style, it's actually a Japanese style castella! These days, you can see them all over the country, but why?