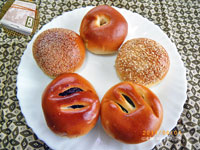 Kimura-ya's 5-colors Sake Breweries Bun
Home > Tokyo

Co., Ltd. Kimura-ya So-honten
4-5-7 Ginza, Chuo-ku, Tokyo, Japan

Product Name: 5-colors Sake Breweries
Category: Sweetened Bun
Raw Materials: wheat flour, azuki bean paste, sweet red bean paste, sweet red bean paste, white bean paste, sugar, egg, sake seeds, glucose, butter, white sesame, poppy seeds, pickled cherry blossoms, salt, (some of the ingredients contain soybeans)

Expiration Date: About 6 days
Kimuraya-Anpan

Speaking of "Anpan (bread with red bean jam)", it goes without saying that it is a Japanese National Food. Especially during the Showa era (mid-1989), bread and milk were popular staples for many people, from students to workers. It was an item. Anpan is the best one out of all of them. However, the days of cup ramen, convenience store bento and onigiri have gradually come to an end.

Anpan" is the name of the first bakery in Japan opened by Mr. Yasube Kimura, the founder of Kimura-ya, in 1894. The first bread was a hard-baked bread in the European style, but it was replaced by a new bread made with sake seed yeast to suit Japanese tastes. Anpan" was created. Since then, poppy seed anpan, cherry blossom anpan, and jam buns were also invented, and the popularity of these buns has gradually increased. It is said to have developed as a result of its expansive popularity and the push of the times.




I opened the box of bread with great anticipation and, surprisingly (yea pretty much), I found it inside! The bread was a small figure. That's right, it was one size larger than a bun and about one size smaller than a large bun. Mmm, I can smell the good smell of an anpan.

5-colors(Cherry, Ogura, Uguisu, White-an, Mustard seed) I had no choice but to try any of the breads that are available. And all of the breads have a homemade feel to them, and while I don't feel like they have much of an impact today, they are all good! It's a bread. The faint, lingering miscellaneous taste of this brew may be a soul food flavor that evokes the nostalgia of old Tokyo people. Also, the poppy seeds were wonderfully sprinkled on the bread.

Quantitatively, I think we could eat about five of them (for lunch), but whether you can stand the sweetness is up to you.



Afterword)
Incidentally, the president of Maison Kaiser (Mr. Shuichiro Kimura) is the eldest son of Ginza Kimura-ya, the founding family of Kimura-ya.

p.s.
Well, as you can see, the finished bread is different from the outside. The poppy is "koshian", the white sesame is "white an", the two vertical lines are "Ogura", the one hole is "Sakura", and the three vertical lines are The "Uguisu" is a "Uguisu", right?