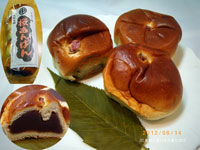 Sano's specialty, the taste of the old days Sakura-Anpan
Home > Tochigi

Nakada's pan Co., Ltd. Nakada
2785 Yorozu-cho, Sano City, Tochigi, Japan

Product Name: Sakura-Anpan
Raw Materials: Red beans, sugar, flour, eggs, rice malt, starch syrup, vegetable oil and fat, baker's yeast, salt, cherry leaves, cherry blossoms, emulsifier, skimmed milk, yeast food, V・C

Expiration Date: 5 Days
Sano's specialty Sakura-Anpan

Speaking of "Sakura-Anpan", it is the seasonal bread that bakeries all over the country display in their stores in the spring. Recently, Sano's specialty "Sakura-Anpan" has been on the rise, ranking second after gyoza in the Tochigi Prefectural Product Center's ranking of the best-selling products (2012), and has been the No. 1 selling item for 5 consecutive months in the 47 prefectures and specialties of Murakara Machikara Hall at Yurakucho Station in Tokyo. And what's more, it contains cherry blossoms and leaves in salt. So, I have a request.

Incidentally, this bread is also one of the liquor breads. Sake brew is a mixture of rice koji and cooked rice that has been fermented.




Well, if you look at it, it reminds you of cheap red bean paste that contains five pieces lengthwise in one bag. Well, I made up my mind and opened the bag, and on the bean-jam bun inside, there was a large salted cherry blossom leaf. When I took one out, there was a surprisingly heavy feeling, and a pink salted cherry blossom was attached to the center of the dark brown Sakura-Anpan. In terms of size, it's a bit smaller than the Kimura-ya (Tokyo), but it has a three-dimensional feel to it.

When you break it in two, there's a huge amount of delicious-looking kosian inside, and when you take a bite, the moist crust is the best match for the rich kosian. The aroma of cherry blossoms, the slight salty taste, and of course the unique flavor of the anpan are not to be missed.

This is good, it's delicious. I was satisfied after eating two of them instead of lunch, but my hand slipped and I ate the third one. If it's a confectioner's bread, I'd give up after two because of its sweetness, but this one is fine. The amount of the filling is also notable, there were about two portions in each one.