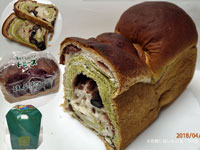 Powdered tea Anshoku
Home > Hyogo
〝↓Bread and Saliva
Co., Ltd. Tommy's
4-2-46, Uozaki Minamimachi, Higashinada-ku, Kobe City, Hyogo, Japan

Product Name: Powdered tea Anshoku
Category: Bread
Raw Materials: wheat flour, sweetened beans, black soybeans, green tea, sugar, dairy products, vegetable oil and fat, yeast, salt
Weight: 500g

Expiration Date: 4 days including the date of manufacture

How to Store: Avoid direct sunlight, high temperature and high humidity.

* Anshoku" was registered as a trademark in 2007 (Trademark Registration No. 5069847).
Anshoku

I was watching a TV show and found that in Kobe, a bakery called Tommy's called Anshoku It's very popular. It's shaped like a loaf of bread, and there are marbles of red bean paste inside. The dough is mainly made of flour and fresh cream, then mixed with red bean paste and baked.

And after a while (about a month) since I saw the TV program, the heat is starting to set in I ordered "Anshoku" from the internet to see if it was time to cool down, and the delivery date was a whopping 7! It was a month later.... Sigh of disappointment.

By the way, there are many breads similar to this one sold in Kobe. Anshoku" is a registered trademark, so it is not sold under the same name. However, it looks the same and is sold under the same name of "Koshi Anshoku bread" etc. It's "Anshoku". Well, they're selling well and are accepted, so they're all part of the Anshoku is the taste of Kobe.




In fact, I was going to wait like an idiot for what I ordered above, and then I saw that the local department store's I spotted a flyer at an event selling "Anshoku". So, on the day of the purchase, I was attacked by an old lady who walked in and pulled my hair (that's a lie). We finally got our hands on the "Matcha Anshoku". But the plain 'Anshoku' was no good. Hmmm... no one can blame me for what I did, but old lady Yobo and all sorts of skilled people. A lot of them.

Well, when I took it out of the bag, it looked like it was baked in a darker color than I expected, probably because of the sugar in it. And when I excitedly cut the dough, it was a white and green swirl of dough, and the bottom part was gravity-defying It feels like lowered red bean paste and black beans are sinking in. The rest of the bread is about two sizes smaller than normal bread! But it feels like it's holding, it's heavy.

And when I started to smell it, it smelled delicious and fragrant. Once you try it, of course it can't be any less delicious~. Well, I could feel the atmosphere of brown sugar and the taste of red bean paste, but the sweetness was under control, so it was a very pleasant surprise. For people..... I guess the other thing is that the presence of matcha is used for visual purposes! Next time you try it after baking it, oh? The milk flavor is getting stronger.

Well, what's good is certainly good, though. We ate about two thirds of the bread we had for lunch. Considering they were sweet buns, I thought 650 yen per bun was a bit steep, but now that I look at it, it was 217 yen per person... So it wasn't like that.



Bread and Saliva)
This time in 2019, "soft bread to the ears" seems to be all the rage in Japan. And that's mainly among the elderly. The reason for this is that the amount of saliva decreases as people get older, so people like bread that is soft to the ears and has a high water content. There are some people.

And not only that, "Westerners like hard bread and Japanese like soft bread. This is due to the amount of saliva. That's because Westerners have a lot of saliva and Japanese have less saliva, so hard bread that requires a lot of saliva is not easy for Japanese to eat.

By the way, it's better to tear the bread into pieces rather than crunching it directly (I think). It's also better to break the bread into pieces along the fibers. It's probably because if you tear the bread into pieces, the fibers won't be broken up and the saliva will stick to the bread when you put it in your mouth. I think it's because it doesn't get sucked in. But if you want to try it, give it a try!