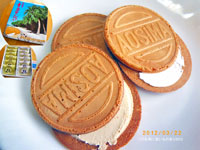 Aoshima-Senbei
Home > Miyazaki

Nisshin-Do Co., Ltd.
2-10-5 Jōgasaki, Miyazaki City, Miyazaki, Japan

Category: Confectionery
Product Name: Aoshima-Senbei
Raw Materials: Sugar, flour, shortening, rice flour, chicken egg, milk, peanut paste, margarine, starch syrup, honey, wine, expander, flavoring, emulsifier (from soybeans)

The plant produces products containing wheat, eggs, milk, peanuts and buckwheat.

Best-Before Date: It's been a little over 5 months when I received it
Aoshima-Senbei

Aoshima, Miyazaki, a former honeymoon mecca with a tropical mood, has lost its status to Okinawa since its return to Japan. Even so, Aoshima is still Miyazaki's most popular tourist destination, famous as a camping ground for the Giants, and famous for the Oni's Washing Rock. And the classic souvenir "Aoshima-Senbei" is still alive and well.

After I remembered the sound of "Aoshima-Senbei" in my mind, I looked at the image on the net and found out what a modern and extreme figure it was. Believing that there must be a "Qingdao" atmosphere somewhere, I ordered it.




There were two kinds of white cream and nut cream, and when I opened the two layers of wafers, there were different colors of cream between them. The white cream smelled like normal cream and the nut cream smelled like peanuts.

And when you eat it with a crunchy sound, it's fragrant. Well, it's a typical gauffle-type candy, but it's tasty in its own way. This used to be a popular candy, but time has passed, times have changed, and people's tastes have changed, perhaps.