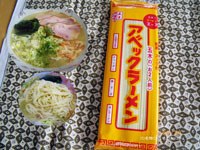 Avec-Ramen (with soup)
Home > Kumamoto

Itsuki-Shokuhin Co., Ltd.
945 Sakano, Jonan-machi, Minami-ku, Kumamoto City, Kumamoto, Japan

Category: Instant ramen
Product Name: Avec-Ramen
Raw Materials: Flour, salt, egg white powder, salt, pork fat, sesame oil, soy sauce, sugar, spices, seasoning (amino acids, etc.), brine, gardenia color, caramel color, (some ingredients include wheat, squid, soybeans, and chicken)

Best-Before Date: A little over five months

On the back of the bag, it says that it can be used not only for ramen but also for yakisoba, hiyashi ramen, champon, and anything else. Mr. President, you're too greedy.
Avec-Ramen

This type of dry noodle ramen was commonly called instant ramen, but it is now often called bagged ramen to distinguish it from cup ramen.

There are many straight ramen noodles in Kyushu's bagu ramen, called stick-like ramen, but why straight? No, but before that, why are ramen noodles shrinking? This time, let's try Avec-Ramen, Kumamoto's kokoro no ramen.

P.S.
By the way, it is said that if the noodles are shriveled, the soup will blend well with the noodles when you rinse the ramen. Also, with thin noodles, there is more surface area due to the number of noodles, which sucks up the soup between the noodles, making it as tasty as this thin-men stick ramen. And by the way, the most famous bar ramen in Kyushu is the bar ramen from Fukuoka's Marutai.




It's a stick ramen made with an instant. When I took a sip of the clear soup, I found it to be just as salted and lightly flavored as it looked. The round, thin, somen-like noodles are more yellowish than somen, and have a proper Chinese noodle flavor. And again, it is quite good. Hmmm, it seems like these are noodles that are not fried in oil (in fact, it seems that stick ramen is generally not fried in oil).

Because I put dried shrimp in the ingredients, the soup turned out to be shrimp flavored, but my family's soup without shrimp also had a little aroma of tonkotsu in the back. Hmmm, it's quite good ramen. Even if you're not from Kyushu, you're going to have a lot of fans.



Afterword)
The name "Avec-Ramen" sounds familiar. The reason for the name "Kokoro" is "because there are two servings in one bag".