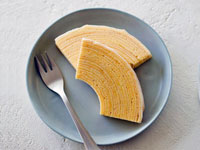 Baumkuchen
Home > Hyogo

Co., Ltd. Juchheim's
7-7-4 Minatojima-nakamachi, Chuo-ku, Kobe City, Hyogo, Japan

Category: Confectionery
Product Name: Baumkuchen
Raw Materials: Eggs, sugar, butter, wheat starch, white chocolate coaching, flour, almond powder, liquid sugar, salt, lemon juice, vanilla, lecithin (from soy)
Baumkuchen

Baumkuchen is now a major cake (confectionery) and a familiar confectionery that can be found everywhere.

Baumkuchen, which was a luxury confectionery at the time, started to appear as a wedding gift because they put a "Congratulations" or "Longevity" ornament in the middle of the ring and branded the confectionery itself, which made it a very nice souvenir. Another factor is that the yearly circle of sweets itself is also a good omen.

Well, it has spread throughout the country, hasn't it? And nowadays, there are a variety of products ranging from sweets and breads to luxury items.

By the way, Baumkuchen was born in Germany and was first baked in Kobe, Japan in 1917 by a German, Carl Juchheim's. The first Baumkuchen was baked in Kobe, Japan. That's why Juchheim's in Kobe is so famous for its Baumkuchen.




If you look at it, the stripes on the ring are uneven because it's handmade, and there's white cream (maybe white chocolate) on the outside. And when I tried it, it was surprisingly light in flavor, with a moderate sweetness. However, if you eat it with the cream on the outside, the sweetness increases and it feels just right.

Hmm, I don't know what to say. Tasty is tasty, but it's just plain tasty. But I guess it's worth it to know the taste of the first Baumkuchen.

I found out later that it's good to eat it with whipped cream. I see, that's what it was supposed to be, and it's delicious.