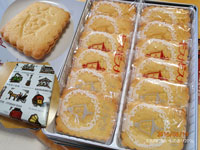 Bashamichi Jyubankan-Biscuit
Home > Kanagawa

Co., Ltd. Yokohama Jyubankan J
5-67 Tokiwa-cho, Naka-ku, Yokohama City, Kanagawa, Japan

Category: Bakded Confectionery Biscuit
Raw Materials: flour, sugar, vegetable oil and fat, butter, shortening, eggs, cornstarch, skimmed milk powder, peanuts, cocoa powder, whole milk powder, cacao mass, milk, salt, vanilla oil, emulsifier, baking powder, flavoring, colorant (annatto, turmeric, yellow No. 4), (contains eggs, dairy ingredients, wheat, peanuts, soybean)

Best-Before Date: 90 days from the date of manufacture
Bashamichi-Jyubankan-Biscuit

Bashamichi-Jyubankan-Biscuit, a standard souvenir of Yokohama. It is sold in the department store (Takashimaya), so it is easy to buy, which may be a reason for its popularity. Well, if it's such a standard item, it's not surprising that it's sold at the station, but that's not the case. So there's a premium that isn't there. And that's why I have to try it~.

Let's see... If you were an old timer, you might have heard of "Bashamichi" from Mr. Masatoshi Nakamura's Most people know it from the popular song "Around Bashamichi~" (nationwide), but Younger people may not be able to understand that Bashamichi = Yokohama, right? By the way, in front of the main shop in Bashamichi (Carriage path), there is an unfamiliar There is something that looks like a water tank with the words "Cow and horse drinking water". It is literally a water fountain for cattle and horses. It's a watering hole for cattle and horses, that's what Bashamichi is all about.




I bought one in a can this time and it's exceptionally heavy and suitable for use in an errand. ~ and. The cute paper bag you can get if you say so is a nice touch~.

I opened the wrapping paper with a retro feel and took out a cookie from the can box and put my nose close to it. Then, oh, that's a delicious aroma. When you bite into it, the cookie crumbles, and the flavor of the cream in between crumbles and sinks into your mouth. They go scattered. Crunchy, sholish, I could hear the delicious bite from the mouths of my housekeeper eating nearby! Peanut, chocolate, lemon, and all the creams are so deep and elegantly delicious. Sigh. We tend to think of all cookies as the same, but when you actually eat them, they are surprisingly deep, and each one has its own language There's a difference that can't be expressed in words.

It's surprisingly big, so we can have one for each of us, but I have a sweet tooth, so I'll have two for today.



Afterword)
By the way, cookies came from the United States and biscuits came from England. The National Biscuit Association of Japan defines cookies "40% or more of total sugar and fat" as cookies "40% or more of total fat". It is defined as a biscuit that is "less than" full. and this Bashamichi-Jyubankan-Biscuit, no matter how you eat it. It's a cookie.