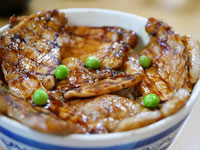 Buta-Don Lunchbox (Tokachi Buta-Don Ippin)
Home > East Hokkaido

Tokachi Buta-Don Ippin Obihiro-Honten
5 Nishi 21jo Minami 3-chome, Obihiro-shi, Hokkaido, Japan
Maker: Co., Ltd. Sorachi
4-4, Kita 7-jo Nishi 4-chome, Ashibetsu City, Hokkaido, Japan

Product Name: Buta-Don lunchbox
Category: lunchbox
Raw Materials: Rice, pork, leek, garnish, soy sauce, sanwon sugar, sake, mirin, seafood extract, kelp extract (some ingredients include wheat, soybeans and pork)

The restaurant uses binchotan (white charcoal) to grill the pork (main charcoal is about 400℃ to 700℃ and white charcoal is about 1000℃).
Tokachi Buta-Don

Buta-Don, an Obihiro specialty in Hokkaido, has been seen from time to time recently, and it was originally made by substituting pork for the "eel-don" (a bowl of rice topped with eel). Well, Buta-Don is a simple dish that is often made in local households and has become a kind of soul food.

Incidentally, there are currently more than 10 Buta-Don shops in Obihiro, and each shop offers unique Buta-Don dishes that are eaten by locals and tourists alike. Well, Hokkaido has a short history, but there are many unique foods such as curry soup, and I wonder why.




I bought a Buta-Don lunch box at the demonstration sale of the product exhibition. I couldn't see the charcoal one, but I heard that the pork is grilled over a direct charcoal fire.

The image is not very impressive, but there is a lot of tsukemono (green vegetable-like pickles) as a garnish. So, I picked up the pickle first, and then went to the main body, Buta-Don. Then the pork had a sweet and sour taste that made me want the rice underneath immediately. Hmmm, this is delicious. And it naturally makes you want to repeat the process of pickles, pork and rice. Yes, the lightness and spiciness of this pickle change the fattyness of the pork, and recommend you and me to eat. Also, the sauce poured over this white rice is very fragrant.

When I asked a family member who has a meat dish, he said, "The meat is tender and delicious, which is a good thing. Hmmm, not only is it a good way to cook, but this sauce is probably the secret to its deliciousness, too. You must try this one.



Afterword)
Afterwards, I heard that there are two kinds of local Buta-Don, loin and rose (too much fat), and they are both popular. Well, I guess the roses are more suitable for young people... In addition, the popularity of Buta-Don is expanding, and the number of shops is increasing considerably.