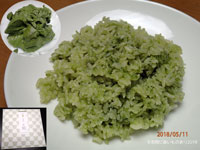 Raw bean paste of Japanese tea (Shizuoka Prefecture)
Home > Shizuoka

Shop: Co., Ltd. Chatsu-tei
556 Ozuwa, Numazu City, Shizuoka, Japan
Maker: Co., Ltd. Mikami
675 Iida-cho, Minami-ku, Hamamatsu City, Shizuoka, Japan

Category: processed tea
Product Name: Green Tea Paste
Raw Materials: green tea (from Shizuoka Prefecture), glucose, yeast, vitamin C

Weight: 100g
1 teaspoon (5 grams) of brown rice to 1 cup

Best-Before Date: About 10 months or less (up to 18 months) when it arrives.

How to Store: Store at room temperature, avoiding high temperatures and humidity.
Store in the refrigerator after opening and use immediately.
Cha-Meshi

One time I saw a picture of rice cooked in green tea. It was very beautiful rice with bright green color. But I couldn't imagine that taste, that flavor. Hmmm, I don't know what to do about it, but I can't just leave it here...

So, this time, I'm going to make a Japanese green tea paste called "Matcha no paste". mixed with rice. Well, speaking of Cha-Meshi, you can use matcha powder or cook it with plain green tea Apparently, I fell in love with the look of the finished product and chose this one. Well, we wondered how it would turn out.

Incidentally, we haven't had such a rice dish since the last time we ate fragrant rice.




I dissolved this paste in the usual amount of water and cooked the rice as usual. While the rice was cooking, I could smell the green tea in the air. And the cooked rice was as green as I saw on the internet. Hmmm, as I expected. And it smelled like green tea. When I tried it, it smelled like green tea. Wait - yes, it's still tea-flavored and refreshing. But it still doesn't make sense to me...

Hmmm, if I were to use an analogy to this situation, I'd say we met a strange cat on the side of the road, and we stared at each other. A hardened scene. I'm still not sure if it's good or not. I'm going to be eating this for a while now, every day for a while, so I won't say much about it for now. Will I get tired of it, or will I become obsessed with it?

Well, I don't have to tell you, but I'm sure it will come out soon, but we need more small pieces of products~.

By the way, the paste looks like a small lump, but it's actually a big one, maybe a small teacup full.

After that, I ate it for a while, and the more I ate it, the more I liked it. Yeah, it's not bad.