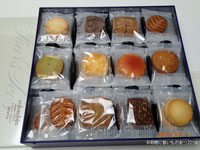 Ginza-Colombin's-Tokyo Western confectionerys
Home > Tokyo

Co., Ltd. Colombin's
7-14-3 Ginza, Chuo-ku, Tokyo, Japan

Category: Biscuit
Product Name: Foursec (50 sheets)
Raw Materials: flour, butter, sugar, almonds, eggs, soft cream powder, cocoa powder, and Raspberry jam, fresh cream, Parmigiano-Reggiano (cheese), cornstarch Pistachios, shortening, milk, coffee powder, salt, skimmed milk powder, rice wine, and dextrin. cinnamon, cinnamon, vanilla bean, agar, vinegar, trehalose, inflating agent, flavouring agent, colouring agent (caramel and safflower yellow, gardenia, vegetable coloring, cochineal), gelling agent (polysaccharide thickener), emulsifier, acidifier, ( (Some of the ingredients include soybeans and apples)

Best-Before Date: A little over two months when it arrived.

How to Store: Keep out of direct sunlight, high temperature and high humidity
Colombin's cookie

The one quietly listed at the end of the "popular basement sweets" section of a website is This is a cookie from Columbin's. Columbin's is a long-established company based in Harajuku, Tokyo. A confectionery shop, offering cakes and baked goods in their store. It is the only Western confectionery that is purveyed to the Imperial Household Agency.

This shop used to have the momentum to expand its branches all over the country, but now it's shrinking a little bit Looks like.... Well, it doesn't matter, I bought it because it looks so beautiful, this How do you think the cookies are going to taste?

Well, by the way, I heard that this Ginza Colombin's appears in the novel "Hosoyuki" by Tanizaki Junichiro.



Afterword)
Recently (since 2010), convenience store sweets have been on the rise, and Western It seems that confectionery shops are no longer selling their cakes. However, Columbin's has started a new service of putting the logos of universities and companies on the cookies. And that they are recovering from the loss of ground... Well, I can't deny that management is still getting harder and harder~.





When I opened the simple white box, I found a very colorful confectionery inside. At first glance, it looks like all of them are of different types, but it seems that they all seem to have settled on eight different types. .

If you try to eat from the end of the vanilla, it has the classic feel of a cookie flavor, with sugar around it. The one that is dusted with. The next time you throw a square of chocolate-colored chocolatey amand into your mouth, oh, it's chocolate and I think it smells like almonds! The next one, the cafe amand, smells like coffee, which also has sugar sprinkled around it. The leaf-shaped phyllo praline smelled like cinnamon before I even ate it, and it was very pleasant to eat. But I'm still feeling that way. Well, that's about it for today~.

The next day, the brown and round amandos were crispy and buttery, and I could taste the almonds at the end of the meal. It left a little bit of a mussel in there, and it was kind of delicious. The pistachio is a green cookie, I can't really tell what it feels like to eat it. The orange square cookie was Parmigiano-Legano, and I could suddenly smell the cheese It was like a cheesecake when I ate it. The raspberries at the end were in the shape of red flowers, so I could smell the raspberries!

Well, that's how it tasted, and the rest of the pastry is elegantly packaged in the same size, one by one.