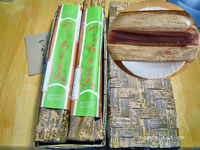 Decchi-Yokan
Home > Shiga

Kasho-Rokubei
1087 Kinomoto, Kinomoto-cho, Nagawama City, Shiga, Japan

Category: fresh confectionery
Raw Materials: Sugar, red beans, flour, starch, starch, starch syrup, salt

Best-Before Date: 4 days from date of making
Decchi-Yokan

As the name suggests, Decchi-Yokan is a type of yokan commonly found in the Kansai region (Decchi in Decchi-Hoko: Decchi=Kozo in the Kanto region). There are various theories about the origin of the name depending on the region, and the manufacturing method seems to be slightly different, but the nationwide image of Yokan is a bit cheesy.

According to Omihachiman City in Shiga Prefecture, the origin of this product is that "children who went to Decchi-Hoko from Omihachiman to all over the country took it back to Hoko as a souvenir after returning home. The recipe is made by kneading flour and red beans, wrapping them in bamboo bark and steaming them.

I have a vague memory of eating Decchi-Yokan before, but I was curious to find out what the real Decchi-Yokan was like, so I decided to try it. Incidentally, I heard that a shop called "Watayo" is especially famous in Omihachiman City.




When I opened the large, crumbly bamboo bark, I found a red bean-colored Decchi-Yokan that had been thinly washed into the bark. As soon as I peeled off the bamboo bark and ate it, I thought, "Huh? What is this unique flavor and texture... It has a chewy texture, different from yokan, and has a refreshing flavor similar to that of "Uiro". Oh, there are red bean grains in it. This Decchi-Yokan is so simple, one sheet per person is easy to do (I think).

Even so, this bamboo bark is too fine. I began to suspect that I wasn't being deceived, and when I burned it a little, it smelled like nature.



Afterword)
In Fukui, the name of Mizu-Yokan is called Decchi-Yokan.