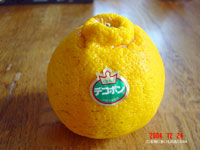 Dekopon
Home > Kumamoto

JA Kumamoto UKI
357-1 Matsubase, Matsubase-machi, Uki City, Kumamoto, Japan

Dekopon is a breed of ponkan crossed with Kiyomi.

Seasons December - May
Dekopon

Dekopon(Kumamoto's Citrus), a Kumamoto specialty, is named Dekopon because a man's forehead comes out with a pomp, but why does it come out with a man's forehead? I'm sure it makes sense. That's what nature is (supposedly) about. It was only in 1990 when it started to be shipped to the market, so it's still unfamiliar. I heard that Dekopon is only allowed to be called Shiranui, which is a variety with more than 13 degrees of sugar and less than 1% of acidity (citric acid).

Dekopon is characterized by a shriveled surface, and that's because it's harvested, stored and ripe before being shipped, he said. Just like a tangerine, you can peel it and eat the whole bag of the inside.




It is much larger than a tangerine, so it is very heavy in your hand. Maybe it's because it's been a long time since it was harvested, but there seems to be no smell. The skin was a little wrinkly, so I poked my thumb at it, thinking there would be a little space inside, and peeled it off, but I had poked it all the way into the fruit. The skin is thinner than I expected, and the fruit is also packed, isn't it.

When you try a bunch of them, they are juicy and delicious. This doesn't taste like a tangerine. Oh, no seeds. It's hard to describe, but maybe it's more like an orange (like a Californian). Yeah, this is expensive to buy, but it's nice to have. The name and shape are distinctive, so it will probably increase in the future.