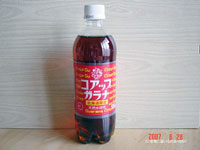 Co-Up-Guarana (Hokkaido only)
Home > South Hokkaido

Co., Ltd. Obara-Hakodate-Plant
29-2 Aza-Nakajima, Nanae-cho, Kameda-gun, Hokkaido, Japan

Product Name: carbonated beverage
Raw Materials: High fructose corn syrup, guarana extract, caramel color, acidity, flavor
Co-Up-Guarana

Many people don't know this, but Co-Up-Guarana is a major drink in Hokkaido. That's because when Coca-Cola was popular in Honshu, Hokkaido, Co-Up-Guarana was popular.

Come to think of it, Pepsi Cola came out later, but where did the Dr. Pepper and other products that were around at the time go? Dr. Pepper is still alive and well in Japan, and Mirinda is doing well in China and Southeast Asia.

By the way, guarana is a plant that grows wildly in the basin of the Amazon River in Central and South America, and is said to be a medicine for longevity and longevity among the local Indians, and is used as a nourishing tonic in modern Japan.




Now, when you open the lid of a plastic bottle filled with cola-colored liquid, poof! After all, it's the same sound as a cola. And the smell is like cola, like Dr. Pepper, or something like that. When I drank it, the taste was surprisingly mild. And although it is a thin cola flavor, there seems to be a lot of carbonation. It also has a unique aroma that I am not used to drinking.

Then I pulled out a similar smell from my memory, and it turned into a chest of drawers... Hmmm, maybe this is a mistake.

Yes, this is the kind of flavor that some people become addicted to once they get used to drinking it. I don't really want to drink it, but I guess it's a good taste (not bad) to drink. I'm sure it's more refreshing than Coke.