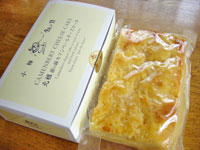 Ginno-kane Camembert Cheesecake
Home > Central Hokkaido

Otaru Ginno-kane
1-1-2 Irifune, Otaru City, Hokkaido, Japan

Category: Cake
Product Name: Camembert Cheesecake
Raw Materials: flour, egg, vegetable oil and fat, sugar, camembert cheese powder, cheese, whip, liqueur, thickener, salt, emulsifier (from soybean), flavor, citric acid, stabilizer (xanthan gum), colorant (carotene)
Camembert Cheesecake

When I walked through the Hokkaido product exhibition, I found a special product called Camembert Cheesecake on sale. No, not only Camembert, but cheesecake is a staple product of Hokkaido, the land of dairy farming. So I bought Ginno-kane Camembert Cheesecake, and I wonder how it will turn out.



Afterword)
Hokkaido is a cheese kingdom. Cheese is made in many of the region's factories, from the largest companies to the most unique cheese workshops. The domestic consumption of cheese is about 270,000 tons, of which 204,000 tons are imported from Europe and other countries (according to the 2006 Ministry of Agriculture, Forestry and Fisheries). Hokkaido's cheese production is 37,700 tons, accounting for 96% of the country's total.





Sorry for the lack of a cross-sectional image, but it's a yellow castella dough topped with cheese cubes, and when you smell it, it's filled with the smell of cheese. At first glance, the cheesecake looks like a pizza, but when you try it, you can't help but feel that there is cheese inside the cheesecake. The taste of cheesecake, the flavor of the cheese itself, and the saltiness of the cheese are combined to create an adult taste.

The cheesecake with the cheese itself is a novelty. There may be pros and cons, but when I ate it, it wasn't even manzala.