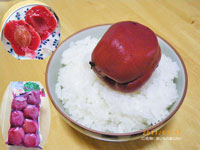 Pickled Shiso and Ume
Home > Aomori

Shimamori Agricultural Processing Group
30 Aza Kamiehanasawa, Oaza Shimamori, Nango, Hachinohe City, Aomori, Japan

Category: Pickled Ume
Raw Materials: Hachisuke-Ume (from Nango Ward, Aomori Prefecture), Shiso (from Nango Ward, Aomori Prefecture), Pickling materials (Ako salt)

Best-Before Date: About 6 months

This reduced-salt pickled plums is a handmade food that does not use any additives
Hachisuke-Ume

I heard that there is a very large Ume-Boshi called Hachisuke-Ume in Sannohe, Aomori Prefecture. It's a masterpiece that instantly captivates the viewer and makes you want to eat it (so to speak).

I saw it on TV myself and was quite taken aback. Its delicious-looking color and plump shape. It's so big, it's unbelievable. The ingredient is apricot (apricot), which is a member of the same family of roses as Ume, and the local people love this "apricot Ume" because it is very close to Ume.




I received a big Ume-Boshi pickled with shiso. When I cut the golf ball-sized Hachisuke-Ume in half, the inside was just as red as the outside, and the area was filled with the smell of shiso. When I took a bite of it without fear, the firm flesh had a good texture, and it was very slippery. After the crunchy texture and fruity flavor of the apricot, the sourness of the Ume-Boshi rages on. Perhaps it's the shiso on the side and the Ume vinegar at the bottom.

Hmmm, it's pretty good. I like this. It's a great gift if you get it as a souvenir. I was going to eat half of it with tea, but I wanted some rice, so I left it for dinner. Next time, I'm going to surprise everyone by making a Hinomaru bento with this.

Well, I'm starting to feel that Aomori, the northernmost part of Honshu, has a lot of extreme things. Tuna on rice bowl, miso curry, milk ramen, etc.