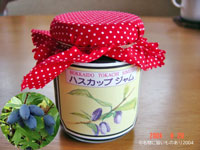 Hasukappu-jam
Home > North Hokkaido

Co., Ltd. Asunaro farming
65, Aza-Shimizu dai 4-sen, Shimizu-cho, Kamikawa-gun, Hokkaido, Japan

Category: jam
Product Name: Hasukappu-jam
Raw Materials: Hasukappu, sugar, starch syrup
Hasukappu

Speaking of Hasukappu, Hokkaido is the place to be. But what's that all about? I'm sure that many of you may think, "Oh, no, I'm not. Well, I guess we can think of Hasukappu as a fruit similar to blueberries, which are a specialty of Hokkaido.

Incidentally, this Hasukappu is a so-called berry that bears a black-purple fruit on the tip of its little finger from June to July, and is said to grow in large numbers in the Yufutsu Genya (Tomakomai and other surrounding areas) of Hokkaido. In recent years, it has been widely cultivated in Bibai City (Ishikari Plain), and the local people eat the hasukappu pickled in salt and put it in rice balls.




[ The fruit is hard to come by, so I'm going to try the Jam ]

The color is dark purple, like blueberries, and when I tried it, it was similar to a strawberry jam, but with a slightly bitter, sweet and sour taste, it had a very adult taste. As I ate it, the bitterness and sourness became stronger and stronger. And I realized that this is a pretty individualistic jam, which is pretty good.

I think it's going to be pretty popular if you can buy this easily. Yes, this is a rare and excellent dish that I want to eat once in a while.

p.s.
Later, I had the opportunity to eat some Hasukappu that had been turned into a tree. And it tastes similar to blueberries, without the strong personality that I felt in Jam, but with a surprisingly gentle taste. Hmm, I guess that's how it is. But when it comes to its concentrated flavor, Hasukappujam is an unforgettable taste.