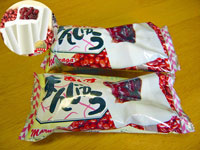 Ice Manjuu
Home > Fukuoka

Marunaga-Seika Co., Ltd.
1821 Higashi Kushihara-machi, Kurume City, Fukuoka, Japan

Product Name: Ice cream (vanilla)
Raw Materials: Red bean jam, dairy products, sugar (starch syrup, sugar, isomerized liquid sugar), stabilizer (polysaccharide thickener), emulsifier, flavoring
Ice Manjuu

This Ice Manjuu is a regular ice cream sold everywhere in Japan, but the reason why it's famous is because the package says it's a Kyushu specialty. This company makes a variety of ice creams, but only a very limited number of them are sold nationwide.

If you want to eat that variety of ice cream, you have to go to your hometown... And I heard that there are ice creams such as Shirokuma, Dutch Vanilla, Nagasaki Castella, etc.




Ice Manjuu" is a white ice milk shaped like a flower-shaped cylinder on a wooden stick (apparently the motif is the plum blossom, Fukuoka's prefectural flower), with a delicious azuki in the top half. The balance between this ice cream and azuki is a masterpiece, and while the azuki bean paste is also delicious, the white ice milk on the outside has a mysterious flavor. This sweet and not so sweet iced milk is the perfect complement to the azuki. Yes, this is a masterpiece.

Later, I learned that in Minamisoma City, Fukushima, there is also an "ice cream manjuu" that is similar to this one. But apparently it's only eaten locally (they don't make it that much). I don't know the history of "what's wrong with you" or anything like that...

p.s.
After a while, I noticed that the word "Kyushu specialties" had disappeared from the package and the official site. Hmm, I guess I should take it off the list of specialties.