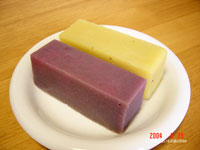 Imo-Yokan
Home > Tokyo

Shuwa-Honten
1-22-10 Asakusa, Taito-ku, Tokyo, Japan

Raw Materials: sweet potato and sugar
Expiration Date: Two to three days.
Imo-Yokan

I heard that "Imo-Yokan" from Funawa, a long-established Japanese confectionery shop in Asakusa, Tokyo, is delicious. I sometimes eat yokan, but I rarely eat "Imo-Yokan". Even if I had eaten it before, it seems to have been long forgotten. Hmmm, maybe it's because the expiration date is so short that I don't have it around me. And I like both "baked sweet potato" and "fukashi-imo", so I didn't bother to call it "Imo-Yokan". I wondered how it tasted... (*1) I had been reading "Shuwa" for a long time, but then I realized that it was actually "Funawa".

(*1) I had been calling it "Shuwa" for a long time, but I was surprised to find out that it was actually "Funawa".




The "Imo-Yokan" that I bought was a set of two different colored yokan. When I tried to eat the beautiful yellow yokan, I found that it was more like a yokan than a yokan. It's like a Japanese candy. But the fact that it's a sweet potato makes its flavor stand out. Hmmm, it's about halfway between the water yokan and the yokan. Unexpectedly, it's surprisingly good.

The purple one tastes almost the same as the yellow one. Naturally, this one was made with purple sweet potatoes.

It seems to be a very popular item among some people, and it's a very popular item that will never go out of style.