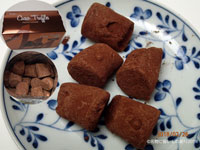 Mattes Fantasy Truffle
Home > Tokyo

Shop: Seijo-Ishii
6-11-4, Seijo, Setagaya-ku, Tokyo, Japan

Importer: Tokyo Europe Trading Co., Ltd.
2-9-30 Kitasaiwai, Nishi-ku, Yokohama City, Kanagawa, Japan

Category: Confectionery
Product Name: Mattes Fantasy Truffle 250g (about 25 grains)
Raw Materials: vegetable oil, sugar, low-fat cocoa powder, whey powder (dairy products), cocoa powder, emulsifier (from soybeans)

Country of origin: France
Best-Before Date: 13 months at the time of delivery.
How to Store: Avoid direct sunlight, high temperature and high humidity, and store in a cool place.
Seijo-Ishii's Chocolate

Speaking of Seijo-Ishii, it's an upscale supermarket that doesn't have much connection with poor people like myself. It's a chain of supermarkets that specializes in food products from the Kanto to Kansai regions, mainly in Tokyo.

Then one day near Valentine's Day, I saw an article about Seijo-Ishii's chocolates and heard that the best-selling chocolates are "Mattes Fantasy Truffle". But most of the time, it's the common man's mind to back off. But the price stopped me from doing so. Well, it's less than 1,000 yen, and it seems to contain a lot of food. Well, I thought I'd try it for a bit~.




The chocolate colored paper box is unexpectedly sober, but when you hold it in your hand, it is unexpectedly heavy and makes you feel a little bit happy. When I opened it, there was a silver bag inside, and chocolates were scattered around in it. Oh, I see you're here~. I wonder if it is similar to "Tankiri Ame". Yeah, it smells like cocoa.

If you toss one into your mouth, you can smell the cocoa flavor at first, and if you can't hold it in, the lump of cocoa will melt away. Mmm, this is good. If you add a little bit more, there's no nettiness, and Joe's sinks into your mouth in a fluffy, disappearing way. There are chocolates like this too~. Yes, as the name implies, it's a truffle. Even though I usually eat 70% cocoa chocolate, I was able to eat it without any discomfort. Oh, and they only let me eat two of them for dessert after dinner~. However, I'm surprisingly satisfied with this.

This is not made by Seijo-Ishii, but imported from France. In short, Seijo-Ishii is a connoisseur~.



Afterword)
This time we are talking about chocolate, but Seijo-Ishii is not particularly keen on chocolate, but rather on a variety of good products. Today, we're going to focus on chocolate.


p.s.

Seijo-Ishii's Premium Cheesecake
Afterwards, I saw on TV and the internet that Seijo-Ishii's homemade premium cheesecake was delicious.

So, let's eat it.

The premium cheesecake that I bought online had an unexpectedly homemade feel to it, and it was heavy in my hand. The smell was faintly cheesecake, but not so much because it was cold. There is a bit of sponge dough at the bottom, cheese on top of it, raisins or something in that area, and a burnt mound on top of it.

The cheesecake is nettly cheesecake with a crunchy almond bite and a stronger milkiness than I expected. There's also a crunchy bump on the top (it's called a stroisel) and a sugar-like crunchy feeling that's not sweet. Well, it's not as good as a cake from a cake shop. I'd say about a quarter of them are shortcakes.



Seijo-Ishii Central Kitchen 8-1-1 Tsuruma, Machida-shi, Tokyo, Japan

Category: Premium Cheesecake
Raw Materials: cream cheese, sugar, eggs, butter, almonds, flour, raisins, salt, baking powder, stabilizer (thickening polysaccharide)
Best-Before Date: 4 days from date of manufacture (but it was 4 days including the day I received it)
How to Store: Eat early to avoid direct sunlight, high temperatures and high humidity (refrigerated invoices are required).