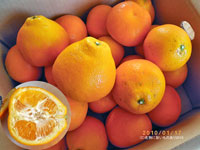 Iyokan (unselected)
Home > Ehime

JA Ehime Chuo
128-1, Chifunemachi 8-chome, Matsuyama City, Ehime, Japan

Iyokan 5kg

Seasons Late December - early April (peak season is February)
Iyokan

Speaking of Ehime's specialties, Ehime mandarin oranges and ponjuice are famous, but we should not forget about Iyokan, which boasts the largest production volume in Japan. This Iyokan was originally discovered in Hagi City, Yamaguchi Prefecture and was called the "Anamon Mikan", but after it arrived in Ehime, it was produced extensively and became famous under the name Iyokan, which was named after the place in Iyo in Ehime.

Incidentally, Ehime Prefecture harvested about 85,000 tons in fiscal 2006, accounting for 83% of the nation's total (according to data from the Chugoku and Shikoku Agricultural Administration Bureau). However, according to the data of the Ministry of Agriculture, Forestry and Fisheries in 1998, Ehime's shipment volume was 170,000 tons, which means that the production volume has been halved in the last 10 years. Iyokan is second only to mandarin oranges in terms of production in Ehime (even so, according to the 2006 data, it is still about 1/10th of mandarin oranges), but it is not very familiar to the rest of the country and is a rare product.




In the cardboard box, I found a cone-shaped Iyokan and a round-shape Iyokan in a mismatch. They are about the size of a softball and their thick skin is soft and can be peeled off with relative ease by hand. In addition, the inner tassels are soft and easy to open by hand. Also, some of the seeds were in, and some were not.

The fruit is much larger than tangerines, and the sweetness and sourness of the fruit gives people a sense of satisfaction. To put it simply, it has a taste that is somewhere between a mandarin and an orange. So delicious and easy to eat, at first I thought that about half of the size was enough, but about one piece was eating normally. There seems to be no individuality, but I guess that's why everyone likes him.

Oh, that's right. The good thing about Iyokan is that the season is different from the tangerine season. It comes out when there are no more mandarin oranges (early winter to spring), doesn't it?