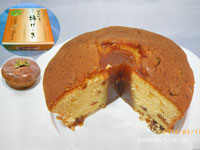 A persimmon specialty store's Kaki Cake
Home > Nara

Ishii-Bussan Co., Ltd.
458 Yatsukawa, Nishiyoshino-cho, Gojo City, Nara, Japan

Category: Baked Confectionery
Product Name:Kaki Cake
Raw Materials: Kakis (Nara Yoshino), eggs, flour, butter, sugar, almonds, shortening, milk, white wine, starch syrup, fructose, alcohol, lemon juice, agar, trehalose, baking powder, emulsifier (from soybeans)

How to Store: Keep out of direct sunlight, high temperature and high humidity
Best-Before Date: About 2 months
270g (11 cm in diameter x 4.5 cm)
Persimmon Cake

As Shiki Masaoka noted, "If you eat persimmons, the bell will ring, Horyu-ji Temple will ring". By the way, there's also a museum of persimmons here... In 2010, seven "Nara's Good Food" were created as part of the 1300th anniversary of Nara's Heijo-kyo Capital. One of them is "Persimmon Cake", which looks interesting, and the famous shops in Nara Prefecture made persimmon cakes all over the place, from round whole cakes to square pound cakes.

Let's try the "Persimmon Cake" from the website of the prefectural government, which was listed at the top of the list like "Let's eat this!




The core of the cake was persimmon jam, and there were dried persimmons scattered around the yellow dough, and the whole thing was like a sponge cake. And the smell, maybe it's a mistake, but there's also a soy sauce-like smell.

When you shave it off with a fork, it's surprisingly elastic, and when you try it, it tastes a bit like a strange fruit cake. But it didn't seem to have the persimmon flavor I was expecting (I've rarely seen sweets with persimmon flavor). And so on and so forth, but not too sweet, with a solidity and weight, and no complaints even for a quarter of a person. Hmmm, I'm tempted to try another restaurant's as well...