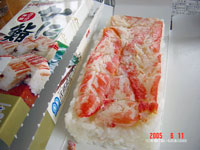 Shin-Chitose Airport Specialty Sushi OF Crab
Home > South Hokkaido

Sato-Shokuhin Co., Ltd. Ishikari-Sushi-Hompo
Catering facility at Shin-Chitose Airport in, Bibi, Chitose City, Hokkaido, Japan

Category: sushi lunchbox
Product Name: Shin-Chitose Airport Specialty Sushi OF Crab(Snow crab oshizushi)
Raw Materials: Rice, snow crab, shiitake mushrooms, soy sauce, brewed vinegar, salt, sugar, mirin, seasoning (amino acids, etc.), soybeans and wheat are included in some of the ingredients.
Shin-Chitose Airport Specialty Sushi OF Crab

In addition to station bento, empty bento boxes have also started to appear in these days' product exhibitions. Many kora-ben (empty box lunches) are lumpy, like sushi, and I think it's essential that they don't get bulky and don't produce any soup.

Once you go to Hokkaido, there are many all-you-can-eat-crab restaurants, and once you eat there, you don't even want to look at it for about six months after that. However, the all-you-can-eat platter came with a set of red king crab, snow crab, and hairy crab, and if you don't eat the whole set, you can't go to the next one, especially the red king crab. Yes, I don't like to eat a lot of king crab (it's said that it's a member of hermit crab), don't you?




I opened that smart rectangular paper box and there appeared a square of pressed sushi, with a beautiful snow crab leg meat on top. And if you look closely, there is a crab and a seasoned shiitake mushroom stuffed in the middle of the crispy pressed sushi rice. Then, I took a piece of sushi which has a slit in it and is easy to separate, and ate it. It tastes just like I expected. The crab and seasoned shiitake mushrooms in the middle give it a nice flavor, and it's a slightly sweet crab sushi.

Also, it had ginger and soy sauce on it, but I don't need soy sauce. After thinking about it, I reconsidered and put soy sauce on it. At first, I thought it was a small box, but once I ate it, I was surprised at the volume. Yes, after all, astringent tea goes well with sushi. I don't have any today, but sake goes well with it.