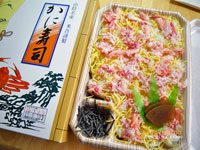 Komego-Kinsei Snow-Crab-Sushi (Yonago Station)
Home > Tottori

Co., Ltd. Komego
Komego Catering Center
248-4 Nagira, Yonago City, Tottori, Japan
(Thirty-five years of business)

Category: Snow-Crab-Sushi弝当
Raw Materials: Rice, Red snow crab meat, Nara-zuke, Shiofuki kelp, Kinsei egg, Vinegar, Sugar, Salt, Soy sauce, Mirin, Seasonings (amino acids, etc.), Sake, Sweeteners (Licorice, Stevia), Coloring (Carotinoid), Sorbitol, Glycine, Glycerin, Na phosphate, Antioxidant (V.C, Extraction V.E), pH adjuster, Acidifier, (Some of the ingredients include wheat and soybeans)

Red snow crab landed in Sakai Port is used.
Snow-Crab-Sushi

Tottori's specialty is pineapple crab. Matsuba Crab is a male Snow-Crab that is landed on the Sea of Japan side of the San-in region (Shimane, Tottori, Hyogo and Kyoto prefectures). These four prefectures account for more than half of the nation's Snow-Crab catch, with Tottori Prefecture boasting the largest catch in Japan. (According to 2007 Ministry of Agriculture, Forestry and Fisheries statistics, Snow-Crab 1400 tonnes and Beni Snow-Crab 4900 tonnes).

The price of such pineapple crab is pretty good, and it's hard for someone like me to afford it. Therefore, I will endure at "Snow-Crab-Sushi" of the ekiben this time. Incidentally, the "Original Crab Sushi" sold by Abe Tottori-do (Tottori Station) in 1952 is said to be the originator of the crab sushi sold nationwide.




When you open the lid, the delicious-looking crab meat glistens with a vermilion glow. Hmm, the yellow threaded egg also adds color, doesn't it. And when I sniffed it, it smelled like vinegared rice. Then, I picked it up from the edge and ate it, and it tasted like chirashi sushi. Mmmm, it's delicious.

And speaking of which, where's the crab flavor? When I looked for it, I found that the crab also has a lot of vinegar on it, which seems to be assimilated with chirashi. Well, it's normal to eat a crab with vinegar, so it doesn't feel uncomfortable... Yes, this vinegar removes the raw smell of the crab, makes it elegant, and makes it last for a couple of days.

The black one is a shredded salt kelp, which is quite salty, and the brown one is Nara-zuke, which has a crispy texture. Well, it was pretty good. I feel like I can eat another box (one fold).



Afterword)
Red Snow-Crab is characterized by the following
They are juicy and watery, and have a good separation from the shell.
He lives deeper than Snow-Crab. In San'inki, the water is about 1000 meters deep.
It's about 1/10 the price of the Snow-Crab.
Freshness fades quickly. ...even though we're only further out than Snow-Crab.
Afterword2)
According to the NHK program, there is another kind of matsuba crab called Wakamatsuba Crab, which costs 7,500 yen for a matsuba crab, but 750 yen for a Wakamatsuba crab, which is an order of magnitude different. How can that be? I was told that the Wakamatsuha crab is a freshly molted crab with a little less miso and flesh. It's mainly consumed locally, and "you might find it on the internet too".