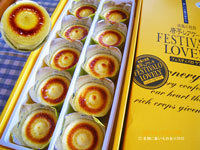 Kara-imo Rare Cake
festivalo lovely
Home > Kagoshima

Co., Ltd. festivalo
1869 Ueno-cho, Kanoya City, Kagoshima, Japan

Product Name: Kara-imo Rare Cake lovely (Western-style fresh confectionery)
Raw Materials: sweet potatoes, dairy products, granulated sugar, egg yolks, vegetable oils and fats, butter, concentrated milk, almond poodles, brandy, vanilla oil, (some ingredients include soybeans)

Expiration Date: About a week.
How to Store: Requires refrigeration at 6°C or less
Quickly frozen during the manufacturing process to preserve the flavor.

How to eat] Thaw in the refrigerator and serve as a cool sorbet. It's very smooth and creamy.
Kara-imo Rare Cake lovely

Kara-imo Rare Cake festivalo lovely (what a long name!) in Kagoshima It is rather famous as a souvenir. However, they are sold in a frozen state and are not found in souvenir shops that don't have freezers, and only those who can take them home or eat them in the same day can buy them. Let's see... I'm going to use cool delivery.

Kagoshima Prefecture has the largest harvest of sweet potatoes, accounting for 38% of the total in Japan (according to crop statistics from the Ministry of Agriculture, Forestry and Fisheries in 2007).




I let the frozen Kara-imo Rare Cake slowly thaw in the refrigerator, and when it was just right, I took it out and ate it. It looks like an overturned polygonal pillar, and for some reason, the upper part is thicker, about the size of a ping-pong ball. The overall color is creamy, with a flowery, open top that is crisp and browned. And when I sniffed it, it smelled like a sweet cookie.

The inside had the same creamy starchy texture as the outside, and it was like ice cream or cheesecake, but with a strange flavor that retained the atmosphere of a potato. To put it simply, it's an adult cake with just the right amount of sweetness, just like a fancy sweet potato dessert served at a traditional Japanese restaurant. Mmm, I'd like to eat two of them.