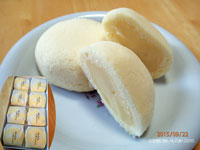 Kasutadon
Home > Kagoshima

Co., Ltd. Satsuma-Jyokiya
6456-1 Koyamada-cho, Kagoshima City, Kagoshima, Japan

Category: Japanese fresh confectionery
Product Name: Kasutadon
Raw Materials: eggs, sugar, syrup, wheat flour, vegetable oil and fat, maltose, skimmed milk powder, starch, milk protein, salt, trehalose Processed starch, glycine, emulsifier (from soybean), expander, polysaccharide thickener, flavouring, acidity, colouring agent (V. B2, carotene) B2, carotene)

Best-Before Date: It was about a week old when it arrived.
Kasutadon

I heard that "Kasutadon" is a popular souvenir representing Kagoshima prefecture. Hmmm. It's a custard with an obscure name: Custard=KASUTADO(n). Looking at the image, I can't help but think of that "Hagi no Tsuki", but there are many other custard products throughout the country that are similar to this one. There's a lot of sweets, so it can't be helped. Hmm, the taste isn't too hard to imagine either~.

Well then, let's try it.




When you open the bag, it looks like a round sponge cake, with the same color custard cream inside. A generous amount of Western-style pastry. It smells like custard cream. When you try it, you will be surprised to find that it has a light and simple flavor, and everyone will like it. Deliciousness. It also has a decent egg flavor and looks just like a hagiographic moon! Oh yeah, it also includes some kind of AGELESS, right?

Well, I think it's one of the best sweets in the "Hagi no Tsuki" series I've eaten so far. No wonder it's so popular in Kagoshima. When you get it, you should put it in the refrigerator after you buy it. When you buy it, you should put it in the refrigerator.