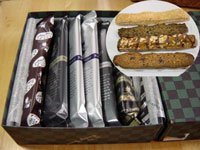 Konigs-Krone
Pie Sticks & Cookies
Home > Hyogo

Co., Ltd. Konigs-Krone
1-1-6, Gokodori 4-chome, Chuo-ku, Kobe City
Maker: Co., Ltd. Konigs-Krone Port Island Shop
4-3, Minatojima-minami-cho 5-chome, Chuo-ku, Kobe City

Category: Baked Confectionery
Product Name: Pie and Cookie Gift
Raw Materials: Flour, butter, sugar, almonds, oats, jam (apricot), cornflakes, cashews, honey, sweetened bram, egg, cheese, chocolate, white sesame, black sesame, yeast, whole milk, brown sugar, salt, coffee, milk, expander, yeast food, V.C., including soy and orange in some of the ingredients

Best-Before Date: It was about 20 days after I arrived home on a consignment.
Konigs-Krone

Konigs-Krone is a delicious sweets shop in Kobe that I've been told about for a long time. This time, I finally got it and went to eat it.

By the way, Konigs-Krone is the company's name, and it is a shop that makes German sweets. Come to think of it, the sweets I had in Kobe before, Baumkuchen, were also German, right? Kobe used to be a foreign settlement, so it's a place where Western culture has blossomed.




Then, this maker's stick sweets include pie & cookies, stick cakes, chocolate coated sticks, etc. I heard that stick pies are delicious, so I decided to try pie & cookies. When I bought the box, I found all sorts of exciting pies and cookies inside.

There was no expiration date on the outermost wrapping paper, so there was a hand-written expiration date on the sticky note paper. Yeah, I'm glad you're thinking of me.

In order from the top of the photo.

Gratten
The pie is sprinkled with lullabies. It's a different shape, but it's more like a Tokyo leaf pie. I tried it and it was delicious. Why does it taste so good? There is a milk taste in the aftertaste.
Rangen
(Black sesame)
It is crispy and crunchy and has a savory sesame flavor. This is also delicious.
Kerupesu
(Coffee)
The fluffy pie is topped with coffee cream and slices of almonds sprinkled on top. This is the simplest of treats. It's close to the atmosphere of a confectionary bread.
Barrin
When you eat it with a burrine, no, when you eat it with a crunch, it tastes like almond chocolate, like almond caramel, that sort of thing. This is also delicious.
Mmm, this is good. If you can give me a souvenir of Kobe, this is the one I want. I'm thinking now.