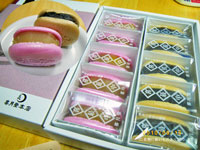 Ki-Monaka
Home > Kanagawa

Co., Ltd. Kigetsudo-honten (Founded in 1905)
1-23, Hongo-cho, Naka-ku, Yokohama City, Kanagawa, Japan

Product Name: Ki-Monaka
Category: Confectionery
Raw Materials:
[ Ki-Monaka ]: red beans, sugar, agar, glutinous rice, salt
[ Chestnut Ki-Monaka]: tebo-beans, sugar, chestnuts, starch syrup, agar, glutinous rice, antioxidant (V.C., EDTA-Ca/Na), bleach (Na hyposulfite), coloring (gardenia, red 3, red 105)

Best-Before Date: Just under two weeks.
How to Store: Always keep in the refrigerator after opening the package.
Ki-Monaka

There was a section of "Kanagawa souvenirs" on the basement floor of a department store in Yokohama. And then, I found the words "Ki-Monaka, one of the most famous confectioners in Yokohama, established over 100 years ago," in the middle of it. And if you look at it, it's a very unique figure, waiting for me, that it is.

Well, I don't know what it is, but it was written that it was a Kanagawa Prefecture designated confectionery.




Well, as you can see, it had a shape that tickled my sweet tooth, with a thick red bean paste sandwiched between two pieces of the middle of the middle, and it attacked me. Hmmm, this is amazing~. When I sniffed the smell, I found that the black red bean paste smelled like the usual middle of a bean jam, while the white chestnut paste seemed to have almost no smell.

When you try it from the side of the red bean paste, there is a simple feeling of simplicity, and the flavor is relieving. But the sweet taste is quite strong, and I gulped down some tea. Next, I tried the chestnut red bean paste, and there were two or three large chestnuts inside the kneaded chestnut red bean paste. Well, overall, the strong sweetness is impressive, as it seems to be a continuation of the Meiji tradition.

Mmm, yum. No, to tell you the truth, it's sweet. Version up, please! Because the design is good.