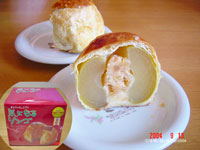 Kininaru-Ringo
Home > Aomori

Co., Ltd. Raguno-Sasaki
9 Oaza Hyakkoku-machi, Hirosaki City, Aomori, Japan

Category: fresh confectionery(apple pie)
Product Name: Kininaru-Ringo

Raw Materials: Apple in syrup, flour, margarine, egg, sugar, butter, wine, salt, sugar mixture, vegetable oil and fat, cinnamon, emulsifier, sorbit, expander, flavoring, coloring (carotene), antioxidant (V.E.), soybean included in some of the ingredients
Kininaru-Ringo

If you stop by a souvenir shop in Aomori, you'll see many apple pies being sold by various companies. But the originator is still Kininaru-Ringo. Nowadays, similar products are sold all over the country, and even in Shinshu (Nagano), which is far away, there is a product called "Marugoto Ringo Pie".

I looked for this Kinininaru-Ringo in neighboring prefectures such as Aomori, but for some reason I couldn't find it, so I finally went to Aomori and got it. And in that shop, the similar whole apple Ringo Pie was wider than the other one, and this Kinininaru-Ringo was secretly placed in the corner of the shop.




From the red box, I took a large, round pie and cut it in two. Then, the scent of apple jam wafted through the air, and inside was a pudding with a whole apple. The hollowed out core of the apple was also filled with a moist dough of apple and some kind of jam.

When I tried it, it had the texture of crispy boiled apples, not apple jam, and to put it simply, the filling was like a three-dimensional apple pie. For some reason, this is what makes it feel like a luxury item, and it's also delicious. That's why it's so popular.

Also, the idea of wrapping a whole apple in a pie seems to be a typical Aomori person with a big heart.



Afterword)
Many people may not notice this, but I think "Raguno" of Raguno-SASAKI means dairy.