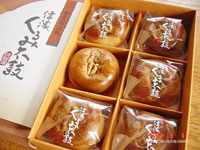 Shinano-Kurumi-Daiko
Home > Nagano

Co., Ltd. Oginoya drive-in Sakuno-Oginoya
2328-2, Akagawa, Nishi Derao, Shinonoi, Nagano City, Nagano, Japan

Category: Baked Confectionery
Product Name: Shinano-Kurumi-Daiko
Raw Materials: azuki bean jam, sugar, flour, chicken egg, walnuts, honey, branched rice flour
Shinano-Kurumi-Daiko

This is a walnut bun which I bought at "Ogi no Ya" which is famous for "Kama-meshi (rice cooked at a mountain pass)". I'm sorry, but I'm not sure if it's a specialty or not at all. It is a homemade bun made by "Ogi no Ya" that uses walnuts, a specialty of Saku region, and is said to be "an excellent product recommended by the National Tourist Souvenir Federation". When I saw it, I didn't think about it, I just wanted to eat it and bought it.

Incidentally, Nagano Prefecture is the largest producer of walnuts in Japan, accounting for about 75% of all walnuts produced in Japan (as of 2009).




When you open the lid of the cover box, it's a brown landscape... And there's a big walnut on top of that brown bun, isn't there? It's more of a sticking point than a sticking point. Then I took a ceremonial nasal approach and smelled the sweet scent of Tokyo hiyoko.

When I tried it, I was able to enjoy the texture and aroma of crunchy walnuts in the bean jam. After all, walnuts have a good taste~. Also, that walnut seems to be a good walnut, too. I have a heavy stomach when I eat walnut yubeshi, but I'm fine with this. Let's see, it's just about as good as it gets. Also, to put it another way, you need a sweet tea.

I think I've eaten a sesame version of this somewhere... Oh yeah, and I shouldn't have forgotten the honey flavor too~. Hmmm, my thoughts are spreading, and where is the damselfly going~.