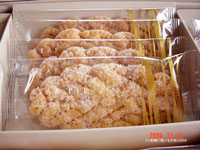 Hotel Okura Tokyo Leaf-Pie
Home > Tokyo

Hotel Okura Tokyo
2-10-4 Toranomon, Minato-ku, Tokyo, Japan

Kind: Regular, cinnamon

Raw Materials: Flour, salted butter, dehulled almonds, granulated sugar, cinnamon
Leaf-Pie

I have a vague memory of eating Leaf-Pie, which nowadays seems to be an orthodox candy that can be found everywhere. If you think it's a foreign confectionary, it was born at the Hotel New Otani in 1964.

It's easy to eat, but if you look closely, these sweets are quite elaborate. The shape of the leaves on the outside and the many layers of pie crust on the inside are very impressive. In fact, Leaf-Pie seems to be a time-consuming treat that takes many days to make. Ah, a person who goes to such lengths is a strange creature.




The layers of pie crust are crunchy as you bite into them. It's a wonder that the lumps on the surface don't feel so sweet for some reason. This light texture works its magic to make you forget how many bites you've had. Hmmm, can't stop.

At first glance, I was dismayed by the lumpy mass on the surface, but when I tried it, I was silenced by its deliciousness. It was created with an exquisite balance of ingredients and baking time, and the delicate shape of the leaves and the gooey texture make this confectionery sound good. Great treats, here they are.

p.s.
Incidentally, I managed to come up with a twist on a candy similar to this one, and it's a Genji pie. If I told you that, you might get angry with me. It's a different class too.