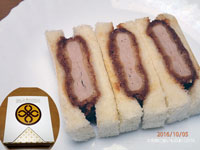 Mai-Sen filet mignonette sandwich
Home > Tokyo

Izutsu Mai-Sen Co., Ltd.
4-8-5 Jingumae, Shibuya-ku, Tokyo, Japan

Category: Cooked bread
Product Name: Filet mignonette sandwich
Raw Materials: pork Filet, bread, bread, pork cutlet sauce, yeast food, emulsifier, V.C., seasoning (amino acids, etc.) pH adjuster, starch (processed starch, carrageenan, alginate esters), processed starch, colorant(s) Caramel, carotenoids), flavoring, (some of the ingredients include eggs, milk, wheat, beef, soybeans, poultry, and (including apples and gelatin)

Expiration Date: Today

How to Store: Avoid direct sunlight, high temperature and high humidity.

Mai-Sen Filet mignonette sandwich

Tonkatsu Mai-Sen is centered in Tokyo and its neighboring prefectures (now expanding nationwide). Tonkatsu bento and Tonkatsu sandwich (Katsu-sand) This is a long-established tonkatsu shop that sells Tonkatsu sandwiches were first made in this shop, and it goes without saying. It is still a staple item at this restaurant. It is also sold at major stations in Tokyo, such as Tokyo Station and Ueno Station, where it is sold in an ekiben mode to the delight of locals and travelers alike. You're letting them.




I was surprised to see the white box of the Tonkatsu sandwich at the shop. I was surprised to see the white box of the Tonkatsu sandwiches at the store, and the size of the box was so small. Roughly speaking, it was about the size of two cigarette boxes. It was so powerful that I wanted to tell my friends that it was about the size of a matchbox. But that didn't stop me from buying it, and I got it back home.

When I came home and opened the box, there were three Tonkatsu sandwiches in the box! It was wrapped and packed in a transparent sheet. When I opened it, I could smell the sweet sauce. I thought it would be crunchy, but it wasn't. It's not a very good combination of sweet sauce and bread, and the flavors are exquisite. brewing. I see. No wonder it's becoming so popular! It doesn't have a distinctive taste, but it has a certain charm that attracts people. Also, the fillet of meat is very fine and I felt like it was minced once and then regrouped. .

However, what is this smallness? I'm not satisfied with one box of these for lunch.