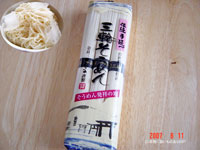 Traditional Hand-pulling Miwa-Somen
Home > Nara

Nara-Miwa-Tatsumi Carefully Crafted
Tatsumi-Milling Co., Ltd.
789-1 Odono, Sakurai City, Nara, Japan

Category: Hand-pulling Somen
Raw Materials: Flour, salt, edible cottonseed oil

Best-Before Date: Roughly three years after production.

cooking method: Boil with pickled plums (the citric acid effect makes the noodles thicker)
Miwa-Somen

Somen in Miwa region (Miwa, Sakurai City, Nara Prefecture), which is said to be the birthplace of Somen, is called Miwa-Somen. This seemingly simple Somen is actually deeper than you might expect, and the finished Somen becomes more delicious as the year (rainy season) passes. By the way, it's called Hinemono when it's overdue twice, and Oh-Hinemono when it's overdue three times.

The Miwa-Somen I bought this time didn't have the date of making written on it for some reason, but the expiration date was September of next year, so I guessed it was made this year. That means, if I save it until next year, will it become a secondhand item? No, it's not going to be a secondhand item in the average household hottarakashi, maybe.

→ As a matter of fact, it should be kept in a cool place with little humidity. However, it seems that the refrigerator is no good because Somen absorbs the smell inside the cabinet. → No, you just need to pack it properly and seal it.




After boiling the square-shaped dried noodles, they were transformed into a round cross-section of boiled somen with a clear white texture. Even if you try just one noodle, it's not too bad, and when you dip it in noodle soup, it's delicious. After all, the noodles are so thin that the sauce is soaked in. Yes, it's like there's a space between the noodles and the tsuyuu is burrowing into it. The noodles are white so you can see them well.

Oh, it's strange that I can't feel the oil content at all, which is said to have been used to prevent the noodles from sticking to each other at the time of production. It seems to have disappeared somewhere. I'm not going to use it until I find out later...



Afterword)
Later, I saw it featured on TV. Miwa-Somen is characterized by being thin and strong, and the finer it is, the more expensive it is. What's more, it seems to be sold in a paulownia box. Hmmm, you'd have to go that far.