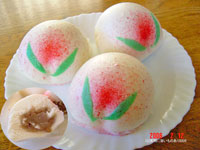 Chuka-Momo-Manjuu
Home > Kanagawa

Co., Ltd. Seika
1-104 Horinouchi-cho, Minami-ku, Yokohama City, Kanagawa, Japan
Shop: Co., Ltd. Hama-Biken

Category: Chuka-Momo-Manjuu
Raw Materials: raw bean jam, flour, sugar, fat, starch syrup, walnuts, skim milk, yeast food, expander, coloring (red 102, blue 1, yellow 4)
Chuka-Momo-Manjuu

When I was looking at the flyer of Yokohama Chinatown Product Exhibition, I saw this "Momo-Manjuu". Hmmm, why is that, why am I attracted to it? Let's be given over to the heart as our heart desires.

No, wait! Speaking of dim sum (snacks) in Yokohama Chinatown, Chinese buns are the best. Speaking of Chinese baozi, isn't it a meat bun? Why do I buy this "Momo-Manjuu"? I said, buy a regular Chinese bun! Speaking of which, when I was about to buy this, the shopkeeper said that it was a good luck charm.




The "Momo-Manjuu," which resembles a beautiful and cute peach, is shaped like a rabbit, and is heavier than it looks when you pick it up. When I excitedly ate it (like a child), I could feel the white bean paste and crunchy walnuts inside, and the sweet taste of the Chinese manju. The white crust had a firmer texture than the popular Imuraya's Chinese buns (maybe because I steamed them at home).

I guess you could say it's just plain delicious. The way it looks, the kids are going to be happy. It's for the sweet tooth and needs a cup of tea. If you're a spicy person, you should probably halve it if you're going to eat it.