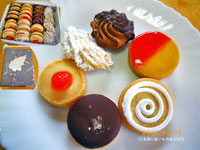 Mont-Blanc Tea-Confect
Home > Tokyo

Co., Ltd. Mont-Blanc
29-12, Jiyugaoka 1-chome, Meguro-ku, Tokyo, Japan

Category: Confectionery
Product Name: Tea-Confect
Raw Materials: Butter, sugar, almond, hazelnut, egg, oligosaccharide, cocoa, cherry, agar, apricot, starch syrup, gelling agent (pectin), acidity, flavoring, salt, strawberry, ph adjuster, vegetable oil and fat, etc.

Best-Before Date: About a week
Mont-Blanc Confectionery

It is said to be the first shop in Japan to make Mont-Blanc, the marron cake (recently forgotten), called "Mont-Blanc"(*1). The number one cake in the shop is still Mont-Blanc, of course. But since the expiration date is only for the same day, we couldn't order it from them. So, let's have the baked goods.

Incidentally, Mont-Blanc is the highest peak in the European Alps and is located on the border between France and Italy. That's why the two countries are fighting over which side of the mountain the summit belongs to. I told you to stop fighting. And Japan, too.

*1) The prototype is said to have been invented by a long-established cafe in Paris.




These colorful and fun cookies are about the size of ping pong balls, and when you smell them, you can smell the cake. We started off with a cherry in the middle, and as expected, it was delicious and very satisfying. It's the taste of delicious cookies that can't be described in detail. The chocolates are covered with chocolate, and the aroma of cocoa permeates the entire surface, which is also delicious.

I won't go into the whole thing, but every cookie is sticky and crunchy and melts like ice cream (maybe a little exaggerated). Yes, this is definitely a first-class product. This would be a live cookie with a short shelf life. Well, the box is small and doesn't look good, but the contents are solid. When giving a gift, it should be to someone who values quality and understands taste.