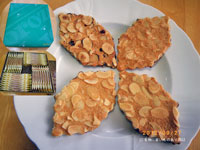 Morozoff's feuillage 36 sheets
Home > Hyogo

Morozoff's Co., Ltd.
6-11-19 Mikage-honmachi, Higashinada-ku, Kobe City, Hyogo, Japan

Category: Baked Confectionery
Product Name: Feuillage
Raw Materials:
[Almond] Sugar, chicken egg, almond, flour, cocoa butter, whole milk powder, cocoa mass, skimmed milk powder, emulsifier (from soybean), flavoring
[Macadamia] Sugar, chicken eggs, macadamia nuts, flour, cocoa butter, whole milk powder, cocoa mass, skim powder, emulsifier (from soybeans), flavoring
[Hazel] Sugar, chicken eggs, hazelnuts, flour, cocoa butter, whole milk powder, cocoa mass, skim powder, emulsifier (from soybeans), flavor

Best-Before Date: A little over seven months
Morozoff'sのクッキー

Headquartered in Kobe, Morozoff's is now a major confectionery store that has expanded nationwide, and is a prestigious store that makes mainly Russian confections...Morozoff's was the first to sell Valentine's chocolates in Japan (February 1932), and was the pioneer and pioneer of Valentine's chocolates so to speak (although there is a theory that Merry Chocolate is the original). Hence, Morozoff's is all about chocolate. That variety of "assortment" comes to mind, doesn't it. But this time, we're having cookies.

By the way, Morozoff's was founded in 1926 by the Morozoff's family (White Russians), who had defected from Russia, and their Japanese partner and partner in charge of the shop. By the way, the term "White Russians" does not refer to whites, but to people who were on the side of the Russian tsarist regime against communism, which is red.




When I took out a cookie from the flashy steel can, it was a leaf-shaped baked goods (both cookies and macarons) with sliced almonds and other ingredients sprinkled on both sides and chocolate sandwiched between the two leaves. When I tried it, I found that it was moderately sweet and smelled of nuts. The crunchy, crunchy and delicious sounds and flavors reverberate in your mouth. I don't know if I've ever encountered this before... Yes, well-polished and refined treats, here you have it.

This is the kind of thing you want to send to your loved ones (maybe I'm being too complimentary!) . If you think chocolate is getting boring, this is for you.