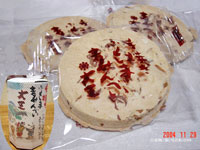 Fukushima Mugi-Senbei
Home > Fukushima

Co., Ltd. Daio
4 Aza Yakushido Ushiro, Shimonodera, Fukushima City, Fukushima, Japan

Category: Senbei
Product Name: Mugi-Senbei
Raw Materials: flour, vegetable oil, starch, sugar, baking soda, salt, expansion agent, egg, peanut
Mugi-Senbei

I heard that "Mugi-Senbei" is a famous product in Fukushima, so I went to a souvenir shop in Fukushima to find "Mugi-Senbei". What the heck, that's what it was supposed to be. Oh, I missed it. I should have done some more research before I came.

I wondered which one to buy, but I couldn't do anything about it because all I had to worry about was the writing on the box... In my panic, I forgot to ask the shopkeeper and bought the cleanest package of Mugi-Senbei. The fact that there are so many kinds, it must be a speciality.

p.s.
I found out later that Taiyo-doh's Mugi-Senbei is a long-established company.




It looks like Nanbu-Senbei (Iwate, Aomori). However, it is about 2/3 of Nanbu-Senbei in size. When I tried it, it was a little hard, and there seemed to be crushed peanuts in it. The taste of this rice cracker is so subtle that it is really too simple. It's more like a preserved food than a candy. I wonder if it's more different when it's freshly baked. I won't know until I try Taiyodo's as well.

Still, I think this simple and unadorned Mugi-Senbei is a taste of Fukushima citizens' heart...