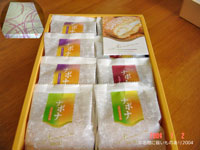 Nabona
Home > Tokyo

Co., Ltd. Kameya-Mannendo
1-15-12 Jiyugaoka, Meguro-ku, Tokyo, Japan

Category: Confectionery
Raw Materials: sugar, eggs, wheat flour, processed oils and fats, vegetable oils and fats (including soybean oil), natural cheese, pineapple, reduced syrup, cacao mass, milk fat, butter, whole milk powder, maltose, syrup, starch, kirsch liqueur, brandy liqueur, skimmed milk powder, rum, emulsifier, inflating agent, flavoring agent, gelling agent (pectin, orange-derived), coloring agent (carotene)
Nabona

Speaking of Nabona, "Nabona is the Home Run King of Sweets" TV by Sadaharu Oh This reminds me of a commercial. I don't know if this TV commercial was aired only in the Kanto region or not, or if people in the other regions except Kanto don't know about it. There seem to be many of them. So, if I buy this in any of the regions except Kanto, people will think what the hell is going on. It's famous in Tokyo (Kanto region), though.

Oh used to appear in the uniform of the Tokyo Yomiuri Giants, but he's in a suit now. and appeared in the same commercial. Mr. Wang is still very popular! (2004)




I tore off the wrapping paper on which was written the name "Kameya Bannen-do" in small and shibboleths, and opened the yellow box inside. There were three types of Nabona in the "chocolate, cheese cream and pineapple cream . So, when I tried to eat the chocolate in the order of my favorite, I found that it was a sponge cake type of It looks like a sweet bread... It has white flour on the outside and chocolate grains in the cream. The difference between the other types of bread is, well, the cream is ingenious.

Hmmm, this used to be fine. There were a lot of sweets like this in the past.



Afterword)
Then the years went by and the store's website was created. So I took a look at the packaging of Nabona and found out that it has become more sophisticated, and it's a good example of the old The package image of the "I'm not a fan of this" is somehow nostalgic, and I think it looks great.