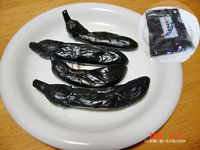 Sendai-Naganasu-Zuke
Home > Miyagi

Yutakaya-shokuhin-kogyo Co., Ltd.
20 Aza Yatsurugi, Oaza Shimonomyo, Shibata-machi, Shibata-gun, Miyagi, Japan

Product Name: vegetables pickled in soy sauce
Raw Materials: sendai-nagaubasu, pickling ingredients [soy sauce, sugar, isomerized liquid sugar, salt, fermented seasonings, brewing vinegar] (some ingredients include wheat), seasonings (amino acids, etc.), sake, spices, acidity

Best-Before Date: 製造日より90日
Sendai-Naganasu-Zuke

As there is a proverb, "Don't let your wife eat the autumn eggplant", eggplant is a familiar food. There are dozens of varieties grown in Japan, each with its own unique characteristics. And, well, what can I say, the eggplant is good. I've come to want to eat eggplant dengaku, grilled eggplant and stir-fried eggplant.

This Sendai-Naganasu is a small eggplant, also known as shikonagon long aubergine, an early-growing variety (the opposite of autumn aubergine) in the northeastern climate. Because they are young, they have a good color and a thin skin, which is perfect for pickles. I've heard that the skin of an eggplant is high in polyphenols (which is all the rage right now). Incidentally, it seems that Sendai Naga-nausu is not suitable for distribution because it is damaged immediately after two to three days of harvesting. Therefore, they are rarely placed in the vegetable section of the supermarket.




This is a small, slender eggplant with the name "Naganasu-zuke", which is just the pickled Sendai-Naganasu. Nibbling on it, I found that the inside was a dark navy blue, just like the outside. Ordinary pickled eggplant sold in supermarkets have blurred dark blue inside and white in the center, but this one is exactly dark blue. It means that it is firmly pickled~. The taste is shoddy because it's pickled. But it's good.

These days, I'm concerned about the salt content, so I often buy "pickles" or "pickles". It's on the sober side of Sendai's souvenirs, but it's in surprisingly high demand.



Afterword)
This time, I somehow bought it from Shibata Town in the south of Miyagi Prefecture. In Sendai, "Okada's Sendai-Naganasu-Zuke" is the standard.