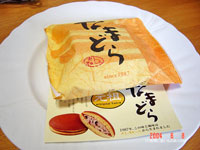 Nama-Dorayaki
Home > Miyagi

Co., Ltd. kato-marronnier

6-4-3 Shirakashidai, Rifu-cho, Miyagi-gun, Miyagi, Japan

Raw Materials: flour, eggs, sugar, cream, red bean paste, soy sauce, expander, honey

Best-Before Date: 20 Days
Nama-Dorayaki

Nama-Dorayaki has become a nationwide favorite, and similar products are being made all over the country. It is said that the first shop that created the cornerstone of this concept was the Miyagi-based "Casa Maronie". Nama-Dorayaki can be found here and there in Miyagi Prefecture, but if you look closely, many of them are from other manufacturers. In short, another manufacturer has a bigger scale and more sales power.

Because of its characteristics, many "Nama-Dorayaki" are sold frozen and are generally eaten after thawing. It preserves better, you can eat it whenever you want, and it feels just right when it's chilled. What's raw? Well, I guess it's called "Nama-Dorayaki" because it's usually filled with whipped cream.




When I opened the bag, which had a slightly washi-like feel to it, perhaps because it was made with frozen food in mind, it smelled of dora-yaki as usual. Nama-Dorayaki has a mixture of fresh cream and azuki beans, while the usual Dorayaki has azuki bean paste.

When you try it, well, it seems like you're eating an azuki ice cream wrapped in a dora-yaki peel. I think it's delicious if it's chilled a little. There may be a few people who think that azuki is better than orthodox one, but after all, it seems to be popular among women. Well, I guess you could say that "Dorayaki", a Japanese confectionery, has become "Dora-yaki", a Western style confectionery.