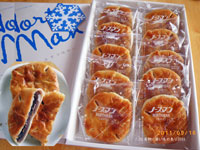 Northman
Home > Central Hokkaido

Senshuan-Seika Co., Ltd.
17 Minami 3-jo Nishi 3-chome, Chuo-ku, Sapporo-shi, Hokkaido, Japan

Category: Confectionery
Product Name: Northman
Raw Materials: Red beans, sugar, flour, reduced water candy, butter, margarine, water candy, salt, egg yolk, soy sauce (derived from soybeans)

Best-Before Date: Around 12 days
Northman

I was told that there is a Northman as a souvenir of Hokkaido. Chiakian, which makes this Northman, is a long-established confectionery shop in Hokkaido with more than 20 stores in Sapporo City and all over Hokkaido. What's more, they have also opened the Chiakian Confectionery College.

What the hell is this Northman guy... But nowadays, it's not so interesting because the images are immediately available on the Internet. By the way, there is also the word "Northman" in English, but in Europe, it refers to the ancient Scandinavians.




When I opened the box with the snow country-like package, I saw that it looks like an Exon-Pie (Fukushima), doesn't it? The word "The person from the north" is dutifully printed on both the box and the bag, which makes me feel like I don't need the word "The person from the north". The size is about the same as a thinly made oval yaki.

The Northman is made with heavy oil, and the anko inside is more heavy. To put it simply, it's a pastry with a little bit of kossiang in the crust of a crispy baked crust. Hmmm, not as sophisticated a flavor as it looks, but this is delicious in its own way. I want to eat at least two by myself.