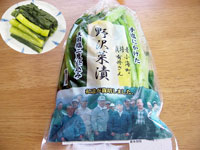 Nozawana-Zuke with all one's might
twice-seasoned salt
Home > Nagano

Co., Ltd. Yamahei
1199 Kou, Komoro City, Nagano, Japan

Category: pickled nozawana in soy sauce
Raw Materials: Nozana, Pickling ingredients (soy sauce, salt, reduced starch), seasonings (amino acids, etc.), acidity, sake, chitosan, (some ingredients include wheat, soybeans, and crab)

Best-Before Date: It was about a week

Nozawana is harvested from late October to late November, then pickled, and eaten from shallow to honzuke until around March.
Nozawana-Zuke

Needless to say, Nozawana-Zuke is now eaten all over the country. I'm sure many of you have had it at least once. So, this time, I thought that there might be a difference between Nozawana-Zuke and Nozawana-Zuke, so I went to eat it.

Nozawana-Zuke is made by lactic acid fermentation at 0 to 5 degrees Celsius, and then pickled in starchy color. Well, in this day and age, it's preferable to eat pickled vegetables with less salt...




Well, I tried the lush Nozawana-Zuke, and hmmm, it is the usual taste of Nozawana-Zuke. Also, I think that Nozawana-Zuke in the real world has a big stem. It's not so good when eaten as a stand-alone dish, but it's really good when eaten with rice. For some reason, the rice feels delicious and the food goes on. It looks like it would go well with ochazuke.

Well, the rest, as you all know. Still, I don't see so many of them anymore... and they're in season, too.



Afterword)
The "flagellum-colored Nozawana-Zuke" (sour) needs to be produced and preserved in cold regions, so you can't eat it unless you go there. The local people like to pickle it, and it is pickled at home, and Nozawana Onsen is said to be the home of it.