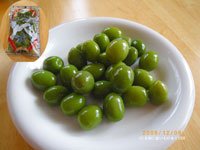 Shodoshima's specialty, freshly pickled olives
Home > Kagawa

Co., Ltd. Inoue-Seikoen
2352 Ikeda, Shodoshima-cho, Shozu-gun, Kagawa, Japan

Category: freshly pickled olives
Raw Materials: Olives, brine

Use as a snack for Japanese and Western sake, as an appetizer for Western food, or as a salad. If it is too salty to eat, it should be drained of salt with water.

Best-Before Date: About a month and a half
Olives

The Olives fruit that Westerners eat with a "yum, yum" attitude. I remember buying bottled olives at the supermarket and trying to eat them, but I couldn't eat them all in the end.

I heard a Japanese person say, "The olives I ate in Europe were very different from the ones sold in Japanese supermarkets, and the ones from Shodoshima were also very good. So, I decided to try the "Shodoshima's specialty, Olives' new pickles".



Afterword)


The other day I saw a video on TV of Olives being harvested on Shodoshima Island. The Olives were not blue (green), but a maroon to black-purple color. From what I've heard, Olives are used in different ways depending on how ripe they are, and the ripe ones are used in cosmetics and other products.

Shodoshima's Olives are fully ripe (black and purple) in autumn (October-November), but as you might expect, pickled Olives are the blue Olives that are picked before they are fully ripe and pickled in salt.





The splendidly blue (green) Olives are about the size of a grape. It might even resemble the shape of a grape muscat before it is fully ripe. When I ate it, it was normal and had no exumi. Unexpectedly, the taste is not unique, with a faint nutty flavor (Olives oil scent?) along with saltiness. You can also feel it. I guess I can't get enough of this scent when I fall in love with it. The seeds are surprisingly large.

It is like a pickle, like a nut, and it has a strange taste. I think I'll use it as a pinch of beer. But I guess it's still wine.

p.s.
It is easy to think that the cultivation of Olives in Japan started only recently, but in fact it has a 100-year history. It all started in 1908, when prototypes were made in Mie, Kagoshima, and Kagawa prefectures, and the first oil was pressed on Shodoshima Island in Kagawa Prefecture. (It is now grown in other prefectures as well.)

There is a place called "Shodoshima Olives Land" where there is a large Olives tree that is over 1,000 years old and was transplanted from Spain and opened to the public in 2016.