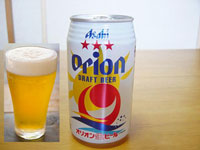 Orion draft beer
Home > Okinawa

Orion-Beer Co., Ltd.
1985-1, Aza Gusukuma, Urasoe City, Okinawa, Japan

Orion draft beer
Raw Materials: malt, hops, rice, corn and starch

5% alcohol
Orion-Beer

We don't know why Okinawan Orion Beer is so good when you drink it in Okinawa. I guess the best way to eat and drink the local food is to eat and drink it in the local area. Also, in the hot Okinawan climate, this refreshing beer is a good fit.

However, Orion-Beer's sales continue to decline as competition in the beer industry continues to be fierce said. Just recently, Orion-Beer and Asahi Beer formed a business partnership (2002), and their beers have been They are to be sold in a mutual sales network. I hope it won't be too much trouble, Orion-Beer, forever. ~And...

Oh, I see the "asahi" logo on the top of the can. It would be better to look local without it, though. As a speciality....




I haven't had an Orion-Beer in a while. It has a refreshing taste without the strong habit of foreign products. It's light in taste, but it has 5% alcohol content~. I wonder why it sells so well~. Is it because they can't compete with big companies~. Oh, no, maybe it's because of the fizzy drinks or the third type of beer....

Hmmm, I'd like to go to Okinawa, feel the sea and light and wind while drinking Orion-Beer, and drink a lot of it.