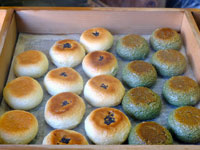 Oyaki (Nozawana)
Home > Nagano

Nagano Prefecture in general

Raw Materials: flour, water, nozawana

No baking soda, baked goods.
Oyaki

Everyone, do you know "Oyaki"? Many people seem to think that "Oyaki" is like this, but in fact, there are various kinds of "Oyaki" throughout the country, and all of them are called "Oyaki".

And what the heck is "Oyaki", with or without flour, steamed or not steamed... I don't know what's going on here. That's because it's a cheap name, so it's the same here and there, and it can't be helped~.

So, this time, let's try the standard nozawana from "Oyaki" in Shinshu, which is said to be the originator of nozawana.




It is "Oyaki" which I bought at a product exhibition. The outside is the yakimochi itself, but there was a lot of pickled nozawana inside unexpectedly~. When I ate it, I noticed that the dough that I thought was a rice cake was somehow made of flour. I was impressed by the fact that even flour can be made into a rice cake. It is baked in oil, so there is a little oil on your hand when you hold it.

After all, hot and freshly baked is delicious. Also, the relationship between the flour rice cake and the pickled nozawana creates a different flavor. Hmmm, it may be divided into two places... The result of this pickled nozawana is like the difference between a man and a woman.



Afterword)
Many kinds of vegetables are used in the ingredients of Oyaki in Nagano (no meat). Among them, the standard is nozawana and eggplant. Nozawana is a dish made from pickled nozawana without salt.

Oyaki is always sold at local sweets shops and dumpling shops, and it is a familiar food that is commonly made at home.

Also, it's said that western Nagano is cooked "grilled" and eastern Nagano is cooked "steamed".