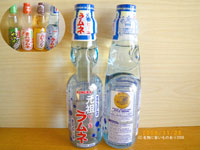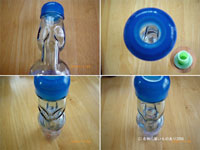 Original B-Dama-Ramune (Glass bottle)
Home > Shizuoka

Kimura-Beverage Co., Ltd.
2429 Miyagawa-cho, Shimada City, Shizuoka, Japan

Category: Carbonated beverage
Raw Materials: high fructose glucose, acidity, flavoring, calcium lactate
Original B-Dama-Ramune

From Hokkaido to Kyushu, manufacturers all over Japan manufacture and sell their own unique ramune. And the number of companies is several dozen. He looked like he had been swallowed by the Coke, but in spite of that, he's surviving in good spirits.

It was originally introduced from foreign countries (both the Netherlands and Admiral Perry of the United States), and it became a bottle of ramune with marbles in the middle (imported in 1887). In Japan, Tokunaga Glass in Osaka made the first rummage bottle. So, I'm not sure about the "original" part of this "Original B-Dama-Ramune". Well, well, the name is free, so...

Also, what bothers me is how they make it in the factory (how to close the lid). It's done by putting soda water on top of it normally, and then turning it upside down. The only thing left to do is to close the marble with the power of the carbonation. By the way, what is inside is an elaborate grade A ball, but since the less elaborate grade B balls have made their presence known in the world, they are called marbles.




I heard it won the highest gold medal in the Monde Selection 2007, so I drank this Original B-Dama-Ramune from Kimura Beverage.

When I pushed the ball with the attached plastic apparatus, I heard a light sound. Then I take a sip from my plastic-covered mouth, and yeah, this is what it tastes like. The short answer is cider. When you tilt it as hard as you can, the marbles come back to the cork again, which is funny, or rather, annoying. The bottle looks small, but it's actually the same amount as a cola (200ml).

If you look closely at the bottle, you can see that it has a mechanism to prevent marbles from falling out when drinking, which is quite elaborate. Awesome, this bottle. See the bottom row of the second image.

Also, one of the products here was a PET bottle/rumune bottle (250ml), which had a marble inside that could be easily removed. There are various flavors such as wasabi, apricot seed, and curry. Everyone has their own likes and dislikes.



Afterword)
Rumone is the proper summer term for a haiku. Hmmm, Ramune has a lot of penetration and depth to it. It also piqued the children's interest~.