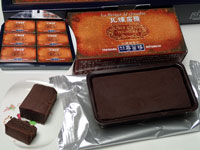 Yokohama-Renga
Home > Kanagawa

Muteki-Ro
Shop: Co., Ltd. Suzune
2-90 Motomachi, Naka-ku, Yokohama City, Kanagawa, Japan

Category: Chocolate candy
Product Name: Yokohama-Renga
Raw Materials: Egg (made in Japan), cocoa mass, top white sugar, sugar, butter, cocoa powder, edible vegetable oil and fat, powdered sugar, lactose fat, cocoa butter, flour, wine, walnuts, starch syrup, refined edible oil and fat, skimmed milk powder, salt/emulsifier, flavoring, acidity, antioxidant (V.E), coloring (carotene), partly containing wheat, egg, milk, soybeans, and walnuts)

Best-Before Date: It was about 8 weeks when it arrived.

How to Store: Store in a cool place away from direct sunlight and high temperature and humidity.
Yokohama-Renga

Muteki-Ro, located unexpectedly close to Yokohama Chinatown, is an awkward French restaurant with a name that might be mistaken for a Chinese restaurant, even if you put the "Muteki" part aside. Next to it is a cake shop called "Muteki-Ro Motomachi Flemish Confectionery", whose "Yokohama-Renga(brick)" is popular because it is a good souvenir.

Well, the name "Yokohama-Renga," a candy modeled after the brick, also comes from the Red Brick Warehouse, the symbol of the nearby Port of Yokohama. Come to think of it, I can get to Yokohama Chinatown and Yamashita Park, but I can't get to the Red Brick Warehouse.




When I opened the big box, I found a nice little box with a square of chocolate wrapped in an ageless vinyl. When I opened it up, there was an unmistakable smell of chocolate. Well, the size is a little bigger than the old safety match (box). When I tried it, I felt the nettiness as expected, but the flavor was a little unexpected, with smoky and caramel scents that stuck in my nose, but it was no match for the presence of chocolate.

The restaurant's description says that the sauce is soaked with walnut sauce and has a hint of apple and brandy, so I'm sure that's what it means.

It's a precious lump that I can't go to the table and eat it while shaving a little at a time. Yes, this is quite delicious. It's sweet enough, but it's also a bittersweet taste, not too harsh. It's small, but it's about as satisfying as a piece of shortcake.