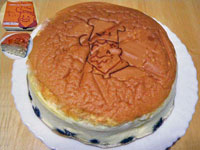 Rikuro-Uncle's Cheesecake
Home > Osaka

Rikuro Co., Ltd.
3-2-15 Namba, Chuo-ku, Osaka City, Osaka, Japan

Category: Western confectionery
Product Name: Freshly baked cheesecake
Raw Materials: Eggs, milk, cream cheese, butter, sugar, flour, raisins, stabilizers (gelatin, thickened polysaccharides)

How to Store: To be cryopreserved (below 10°C)
Expiration Date: 3 days including manufacturing date
Rikuro-Uncle's Cheesecake

Rikuro-Uncle's has become a commonplace in Osaka. As you can imagine, the founder is an old man named "Rikuro". It is said that the cheap and delicious "freshly baked cheesecake" has become so popular that it is now a specialty of Osaka and is often chosen as a souvenir.

Whoa, whoa, whoa, whoa. Oh, the shipping cost is more expensive, why? By the way, the main body is 588 yen and the shipping cost is 1050 yen. I've been on the principle of not writing about the price, but I've finally written about it.




When I opened the box, I was met with a round cheesecake with a western (pointy) old man's mark on it. It's about the size of a regular Christmas cake, with raisins sprinkled only at the bottom of the perimeter. The smell, as the name suggests, is mostly cheesecake, with only the baked edges smelling similar to dora-yaki. When I shaved it off with a fork and ate it, I found that it was indeed a cheesecake. This light feeling is a souffle type of thing.

I see, this is a flavor that everyone loves. This is a lightness that can go far. Also, the raisins that sometimes come out are a nice accent. At this light weight, my family will go berserk if I don't feed a quarter of a coco to each person.

Yes, this may increase the number of tourists in Osaka who are wondering whether to buy a takoyaki or a freshly baked cheesecake. It's all within the same price range.



Afterword)
Later, I saw it featured on TV. Then, "Rikuro-Uncle's" rings the bell when the cake is baked (it takes 40 minutes), and everyone waits for the cake to be baked. So, there are 10 shops in Osaka and they don't want to build a shop outside of Osaka. At this time, it was 725 yen (No. 6) per coco.