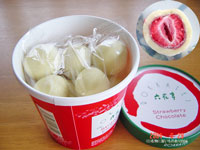 Rokkatei Strawberry Chocolate
Home > East Hokkaido

Rokkatei-Seika Co., Ltd.
3-19, Kita 1-chome, Nishi 24-jo, Obihiro City, Hokkaido, Japan

Category: Chocolate candy
Product Name: Rokkatei Strawberry Chocolate
Raw Materials: Sugar, cocoa butter, whole fat milk powder, dried strawberries, olive oil, vegetable lecithin (derived from soybeans), flavoring
Rokkatei Strawberry Chocolate

I was surprised when I first saw the chocolate images in the brochure.

The white chocolate treat, cut in half, was wrapped picture-perfectly with a whole strawberry inside, a bright veneer. What's with the chocolate? I've never seen chocolate like this before. Isn't it a novel and quirky idea? Hmmm, great. That's why famous souvenirs are so interesting. And since they are souvenirs, they can be sold even if the price is a little higher. Ho-ho-ho, you've done it well, my dear.




When I opened the lid of the red paper container, which looked as if it contained strawberry jam, a round, white ball appeared from inside. When I cut it in half, there was a dried but brightly colored red strawberry inside. Yes, it's a whole strawberry in the white chocolate. Hmmm, it's artistic. The view is amazing. It looks exactly like the brochure image I saw beforehand, it wasn't a mistake.

The sweet and sour taste of the strawberries stimulates your mouth, making it an unexpectedly impactful treat. Really, it was so powerfully stimulating that it made me wonder if it was just strawberries inside. Personally, I'd rather have it wrapped in bitter chocolate than white chocolate. Since it's Hokkaido, they want to use their specialty milk.