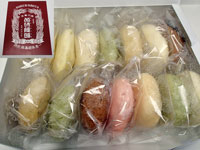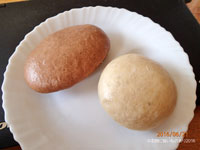 Roken-Manjuu All kinds 14 pieces
Home > Ehime

Co., Ltd. Takeuchi
2-12-10, Katsuyama-cho, Matsuyama City, Ehime, Japan

Raw Materials: flour, Sugar, Yeast, Hakata Salt, Baking Soda, Quail Beans, Black Soybeans, Mugwort, Cocoa, Red Sugar, Raisins, Butter, Yellow No. 4, Raisins, Cheese, Tsubu-an, Koshi-an, Shiro-an, Red No. 102, Pumpkin, Sake, Yellow No. 5, Sweet Potato, Milk, Vanilla Essence

How to Store: Below -18°C
Best-Before Date: About 20 days after production
Roken-Manjuu

In Matsuyama of Shikoku, there is a steamed bun with a name which doesn't seem to be delicious somehow. Its name is Rokken-Manjuu. But there's something about the name that draws people in. I heard that the Roryu Institute stands for the Institute of Labor Science and is a (private) research institute set up to improve the environment for workers. It all started in the beginning of the Showa era (1926-1989) when a Chinese manto (manto) was improved for the Japanese, and after many twists and turns, it has continued to this day. It's been loved by Shikoku's Matsuyama residents for 80 years! It's a good idea to get a free copy of this article.

(Looking at the image) Hmmm, it's not as sophisticated as it looks, just like the steamed buns my grandma used to steam for me. There are several kinds of buns, most of which are irregularly round and full of handmade feeling, aren't they~. There are seven kinds of flavors such as red beans, quail beans, black soybeans, mugwort, cocoa, and raisins, and seven kinds of bean jam, for a total of 14 kinds. So, what did you think of the taste?




(It was sent frozen, so it thaws at room temperature for eating)

In the box, there are two rows of buns, the elongated one is a dough kneaded with various ingredients, and the other row is a round shape with several kinds of bean jam in the center. Well, I'll try to eat two of them from the end at random.

And when I smelled it, it smelled like that nostalgic (homemade) steamed bread. When I put my head on it, I could see bubbles on its cross-section and traces of baking powder (baking soda). There is a red bean jam in the center and a lot of dough around it, and the appearance and taste of it reminds me of a time travel back in time.

I thought it might be too small to eat, but it's an old-fashioned bread, so it's surprisingly filling. It was labeled on the front of the box as a "staple food substitute", and it's true. It's not a sweets, it's bread for meals~. Well, it would be faster to say that it is made from the dough of anman, a meat bun.

The next thing I ate was a little green mugwort bread (also with azuki bean jam), and there's no way to describe it except that I added mugwort to the one I had earlier. After a few days of eating at breakfast, this is a surprisingly good fit and in a good mood. It's not too sweet and it's good for your stomach. It's more delicious to cook them warm in the microwave than to thaw them at room temperature, isn't it?